It wasn't the season opener that sixth year Head Coach Dan Langhi wanted, but the five set match between Marshall County and Ballard Memorial was great early season 1st Region volleyball.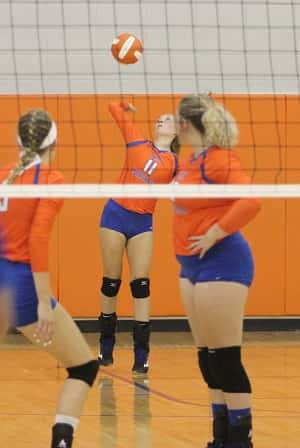 The Lady Marshals lost the first set 26-24 then turned things around in the next two, taking wins 25-23 and 27-25. The Lady Bombers won the fourth set 25-20 to send the contest into a fifth set that Ballard won 15-9 after a 9-9 tie, they scored the next six straight for the 3-2 win.
At the net, 8th grader Halle Langhi had 13 kills, taking the reigns from sister Hannah who graduated and was an All-District and All-Region Tournament Team player for the Lady Marshals.
Senior Bailey Parker had 8 kills and as a team, the Lady Marshals served up 11 aces. Defensively, sophomore Jessica Hicks had 13 digs and freshman Clara Bradley had 6.
Their next two games on the schedule are district game on August 22nd at Calloway County and Christian Fellowship at home on August 24th.