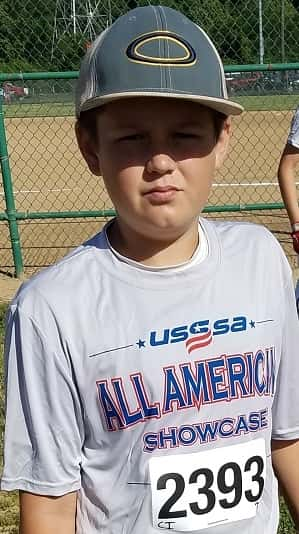 Chase Shelton, 11, of Paducah was selected for the 2017 USSSA All American Baseball Great Lakes Team. This is Chase's third consecutive year to be chosen as an All American. Chase is a 6th grader at North Marshall Middle School in Marshall County and currently plays on the 11U West Kentucky Outlaws travel baseball team which is currently the #1 ranked Major team in Kentucky by USSSA. Chase is a utility player which plays second base, third base, pitcher and catcher. His versatility, love of the game, great attitude, and power hitting helped him make the team.
USSSA All American baseball Teams are chosen from the top players across the nation. The US is broken into eight regions (Far West, Northwest, Central, Midwest, Northeast, Atlantic, Great Lakes, and Southeast). Each region holds showcase events to select the top players in each region for their team. Paducah falls in the Great Lakes region which conducted three showcase events. One in Chicago, IL, one in Cincinnati, OH and one in Canton, MI. Chase attended the showcase event in Cincinnati, OH on June 2nd.
Each regional team will travel to Orlando, FL, August 6th – 12th to the ESPN Wide World of Sports to compete in the All American Games where one team will walk away as the National Champion. The games are broken down into four pools. Pool A&D is comprised of the National League teams and Pool B&C is comprised of the American League teams. The overall best team out of pool A&D will play the overall best team out of pool B&C in the championship game.