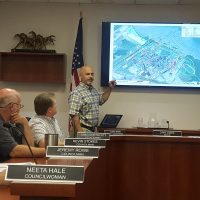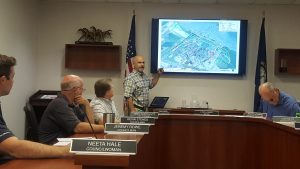 The Environmental Protection Agency is considering cleanup options at the BF Goodrich Superfund site in Calvert City, including constructing a wall below to contain groundwater contamination.
EPA associate project manager Brad Jackson on Monday met with Calvert City Council to discuss progress made on identifying areas of existing contamination and potential measures to continue clean up at the site.
The 260-acre site once housed two landfills – one, which incinerated wastes from the BF Goodrich facility, and another that accepted waste from the Airco plant – discovered upon their closure in 1981 to have been leaking liquids that contaminated soil and groundwater. It was declared a superfund site in 1983, according to the EPA, and long-term cleanup plans approved by the EPA were implemented by potentially responsible parties in the 1990s. Remediation efforts included removal and treatment of groundwater, improving landfill covers and implementing land use restrictions; soil was removed, treated and capped at a former burn pit location, as well.
Groundwater treatment and soil contamination monitoring have been ongoing in addition to those long range cleanup efforts.
The EPA began a sitewide assessment in 2010 to further determine the nature and extent, as well as potential risks of contamination. Jackson said crews had identified contaminants, which included elemental mercury in the soil and "volatile organic" and inorganic compounds in groundwater samples. EPA officials had also identified areas of highest concentration.
"The total that we came up with – and it kind of varies depending on the indicators that we used to try to measure it – anywhere from just visually seeing the material when we drill bore holes, all the way to measuring it in the groundwater," Jackson said. "We're estimating that this represents upwards of 3.5 million cubic yards of soil that has been contaminated with this … type material."
Jackson said EPA officials had in years past had concerns as to whether contaminants from the site were migrating into the Tennessee River, and crews had last summer moved equipment out onto a barge in the river and drilled at different depths for testing. The results of those tests, he said, indicated some material had moved beneath the river.
"We didn't find any areas where it was flowing into the river," Jackson said. "It's probably, the shallowest was maybe 5 feet, some areas it goes down to maybe 14 or 15 feet below the river. It looks like it's stationary; there's nothing really that looks like it's causing this material to continue to move.
"Most of this happened back in the '60s, '70s, maybe … even the early '80s, when there was a series of ponds that were being used to manage the wastes," he added. "As those ponds were no longer used and were closed out, there really wasn't the … hydraulic head to push the material out any more into the formation. So, for the most part we think that it's pretty much static."
However, he said contaminated groundwater was still working its way into the river, thereby releasing hazardous materials into the water. Concentrations were small, Jackson said, as the greater volume of water from the river diluted compounds. Still, numbers were well above standard levels.
Jackson said project leaders were considering options to stop contaminated groundwater from flowing into the river, including constructing a wall from ground surface down to bedrock, about 90 feet down in some areas around the site. That barrier – as well as pump system installation to pull rainwater for onsite treatment before it is discharged back into the river – could cost as much as $80 million, by rough estimates. Constructing a wall, should that be the course of action, could take as long as two years to complete.
Jackson said there were other treatment possibilities, however some were not possible due to limited access to the materials with an active chemical manufacturing plant (Westlake) in operation on the grounds. The massive area encompassed within the site also posed a potential problem from a cost efficiency standpoint. Jackson said several variables needed to be considered before officials determined a specific course of action.
EPA proposals must also adhere to the National Contingency Plan, which calls for groundwater to be restored, as well.
"That's one of the factors is cost-effectiveness; protectiveness; we'll look at implementability, that's going to be a big part of it," Jackson said. "We'll look at the risks, the short-term risk during the construction … are we causing an even greater potential risk? Things like that."
Council members questioned the time table on such deliberations and whether residents would see progress in efforts made. Jackson had briefed the council on the project's progress about two years ago, when many of the issues had yet to be identified, but some aspects had not changed.
"I know that this goes through a lot of people, a lot of discussions," said Councilwoman Lisa Sills. "Two years from now, we might see you again, and we might see the same thing."
Jackson said he was hesitant to state a specific timeline on when officials would know which option they would pursue for certain. He said officials were aware of the problems associated with allowing the groundwater to continue flowing into the river, however, and had made addressing the issue a priority.
EPA officials will host a community forum to address concerns and take formal comments once a course of action had been determined.
For more information about the BF Goodrich Superfund site, including potential contaminants on site and completed efforts, visit the EPA online.