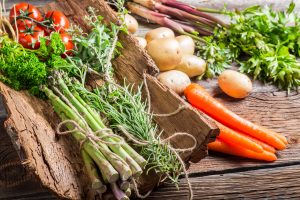 The Benton Partnership is working to host a new fundraiser that members hope will prove a fun community event and shine the spotlight on local producers.
The first-ever Farm to Fork community dinner event will begin at 6 p.m. Saturday, Aug. 12 on the court square in Benton. Organizers say the dinner will feature foods made from locally-grown produce and locally-raised meats and will serve as a fundraiser for the Partnership for its various programs, such as Dickens Christmas and Benton Cruise-Ins.
Partnership member Kayla Teckenbrock said plans for the event were still developing, but many of the core elements were in place. The court square will be blocked to traffic; organizers hope to have an area set up on 11th Street in between the courthouse and Benton City Hall where volunteers will be smoking meat and preparing other items. Dining tables will be set directly on Main Street, and live entertainment, courtesy of the James Sullivan Band, will set up on the courthouse lawn.
"The Marshall County culinary students are going to be helping with the cooking and preparing of the side dishes and everything beforehand," Teckenbrock said. "… And then 4H and FFA will be the ones that'll be helping with the serving and the seating, and then a portion of the proceeds of the fundraiser will go to them for them to use for their different competitions and things throughout the year."
Teckenbrock said no set menu had been identified, as many local producers remained unsure of which products would yield the best harvest. The Partnership, she said, had teamed with the Marshall County Extension Service to contact and help recruit local producers for the event.
Nikki Bell, county agent for agriculture and natural resources, said she was still working to assemble those producers, as some were afraid to commit until later in the growing season. Still, she said a "handful" had already agreed to donate their products, and she expected more to follow suit.
"We're doing everything we can to find local producers who want to participate and be a part of the dinner," Bell said. "We don't have everything we need at this point, but we're working on it. … We're waiting on produce. … We've got some meats donated and I believe eggs, herbs and things like that. Somebody is donating flowers for the arrangements for the tables."
Bell said ultimately she felt it would be beneficial for the community to see what and where their local food options were available.
"Folks don't realize what they have right in their backyards available to them," Bell said. "Sometimes it can be hard to market these commodities that we grow around here. Most of the time they're small farmers that have this kind of produce and things like that. So, awareness that you can drive down the road and buy strawberries or tomatoes or anything locally in the area is great."
Teckenbrock said shining a spotlight on those producers was something Partnership members hoped would increase business for the local population. Awareness, she said, was critical.
"The hope was, obviously, to let our local farmers and producers to sort of be known for what they do," Teckenbrock said. "There's a lot of people who don't realize how many producers we have here and what all they produce."
According to the most recent data found on the Community & Economic Development Initiative of Kentucky (CEDIK), about 719 farm operations were located in Marshall County over 94,879 acres. Just .4 percent of operations in the county marketed products through community supported agriculture efforts, according to CEDIK numbers acquired from the 2012 Census of Agriculture.
Bringing that awareness, Bell hoped, would add fuel to the push for new local initatives, such as an upcoming farmers market set to begin this summer in the parking lot of the Marshall County Extension Office.
"We don't have an exact start date yet, but that will be coming very soon, and that's the same goal," Bell said. "To have this awareness is great, and also start this Marshall County farmers market and have a place where folks know they can come and shop all these different farmers at the same time. So, the whole goal is to boost the local farmers and give them an opportunity to have a place to sell their produce and have the community an opportunity to buy it. So, it'll be full circle."
Moreover, Farm to Fork is about bringing the community together as a whole, Teckenbrock said.
"The main thing that we want is to bring people to town to let them know and see that our town is working together to try to do things for the community," Teckenbrock said. "… We really just want to invite people to the court square to have a meal and hang out. It's something that we've never done before. You know, for people that are from here there's just a neat thing about the court square. … It truly is the central part of our town, and a lot of people have kind of gotten away from that."
Target date to begin ticket sales for the event is June 15; tickets are $35 each and available at the Children's Art Center, Benton City Hall or by calling 270-703-0398. Admission includes appetizers, meal, dessert, drinks and entertainment for the evening.
"We are going to sell just a limited amount," she said. "Right now, with all the preliminary it looks like 200. It is possible that if we don't have as much surplus as we're hoping for that we may have to do 150, but I think 200 should be the number."
Benton Partnership is also seeking sponsors and additional volunteers for the event. For more information, call Teckenbrock at 270-703-0398. To contribute local produce or other local food items, contact Bell at 270-527-3285.