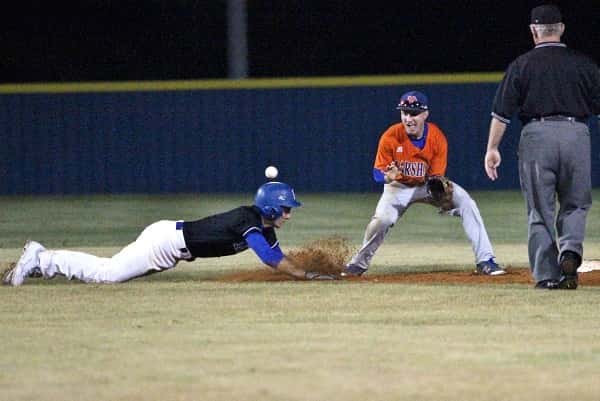 The final out came just before 11:30 in the Marshals 8-2 win over Graves County due to a lengthy weather delay in the first Region 1 semi-final that McCracken County won 2-0 over Calloway County, which puts the Marshals and Mustangs in tonight's championship game.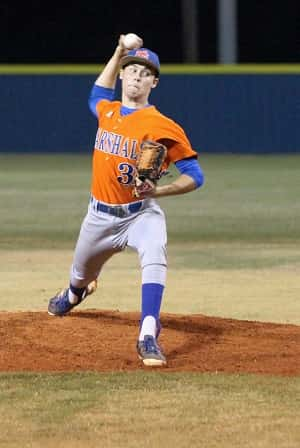 Scoreless through the first two innings, the Marshals left the bases loaded in the first, but got on the board in the third scoring two runs in the inning that began with two walks from Eagles pitcher Zach Barnett, setting up a run by Jackson Beal on a ground ball by Cole Griggs and ground out by Dawson Smothers that brought in Drake Anderson.
Graves County tied the game in the bottom of the fourth when Levi Nessler, on base with a walk, scored on a passed ball and a home plate steal by Barnett, whose two doubles in the game were the only two hits for the Eagles.
The Marshals took the lead back in the top of the fifth following a walk by Lucas Forsythe and double by Smothers that scored Forsythe and sacrifice fly by Cameron Ives that brought home Smothers for a 4-2 lead.
In the most unusual play of the night, a ground ball by Beal to the pitcher in the fifth inning, resulted in a run when pitcher Lane Howell overthrew first and a couple more bad throws later by the Eagles, Beal slid into home to score on the 'in-field' home run that put the Marshals up 5-2.
Three more runs scored for the Marshals in the top of the seventh on a single by Lance Dyke, single by Tyler Belcher and ground ball by Anderson. Cameron Ives picked up the win on the mound in five innings, allowing one hit, one earned run, walked four and struck out five.
| | | | | | | | | | | |
| --- | --- | --- | --- | --- | --- | --- | --- | --- | --- | --- |
| |  1  |  2  |  3  |  4  |  5  |  6  |  7  |  R  |  H  |  E |
| Marshall |  0 |  0 |  2 |  0 |  2 |  1 |  3 |  8 |  4 |  1 |
| Graves  |  0 |  0 |  0 |  2 |  0 |  0 |  0 |  2 |  2 |  5 |
HITTING
Marshall: Smothers 1/3 (2B, 2 RBIs), Ives (RBI), Dyke 1/3 (RBI), Belcher 1/4 (RBI), Johnson 1/4
Graves: Barnett 2/3 (2-2B)
PITCHING
Marshall: C Ives 5.0 (1 hit, 2 runs), Harper 1.1 (1 hit, 0 runs), Stockdale 0.2 (0 hits, 0 runs)
Graves: Barnett 3.0 (0 hits, 2 runs), Howell 3.1 (1 hit, 5 runs), Overby 0.2 (3 hits, 1 run)