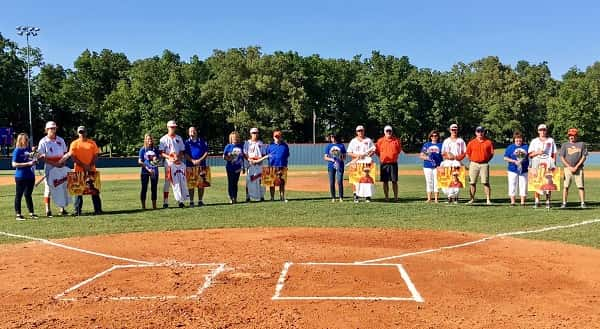 The Marshals celebrated Senior Night with an 11-4 win over Hickman County Monday. Seniors JC Goins, Lucas Forsythe, Lance Dyke, Cole Austin, Cameron Ives and Drake Anderson along with their parents were honored before the game.
The Marshals did the most damage in the second inning, scoring seven runs that began by loading the bases on a single by Goins, single by CJ Johnson and walk by Anderson. The scoring came on a sacrifice fly by Jackson Beal, single by Ives, Forsythe was hit by a pitch with bases loaded, single by Goins and single by Smothers for a 10-0 lead.
Hickman County scored two runs in the third inning and two more in the seventh on a two-run home run by Parker Estes. Estes batted in all four of the Hickman County runs in the game.
Weston Harper picked up the win for the Marshals in five innings of work, allowing one hit, one earned run and striking out five batters.
The Marshals are 22-9 and face McCracken County Tuesday and finish up the regular season at Livingston County Thursday and at Caldwell County Saturday. With a bye as the #1 seed in the District Tournament, the Marshals will play the winner of Murray/Calloway in the District Championship game on May 23rd at 7:00 at Calloway County.
| | | | | | | | | | | |
| --- | --- | --- | --- | --- | --- | --- | --- | --- | --- | --- |
| |  1  |  2  |  3  |  4  |  5  |  6  |  7  |  R  |  H  |  E |
| Hickman |  0 |  0 |  2 |  0 |  0 |  0 |  2 |  4 |  3 |  3 |
| Marshall  |  3 |  7 |  0 |  0 |  1 |  0 |  x | 11 |  11 |  2 |
HITTING
Marshall: Anderson 2/4, Beal 1/2 (RBI), Griggs 2/3 (2 RBIs), Ives 1/4 (RBI), Forsythe (RBI), Dyke 1/3 (3 RBIs), Goins 2/4 (RBI), Johnson 1/1, Smothers 1/1 (2 RBIs)
Hickman: Estes 2/4 (2B, HR, 4 RBIs), McLlanahan 1/3
PTICHING
Marshall: Harper 5.0 (1 hit, 2 runs), Goins 2.0 (2 hits, 2 runs)
Hickman: Templeton 1.1 (5 hits, 9 runs), Simpson 4.2 (6 hits, 2 runs)