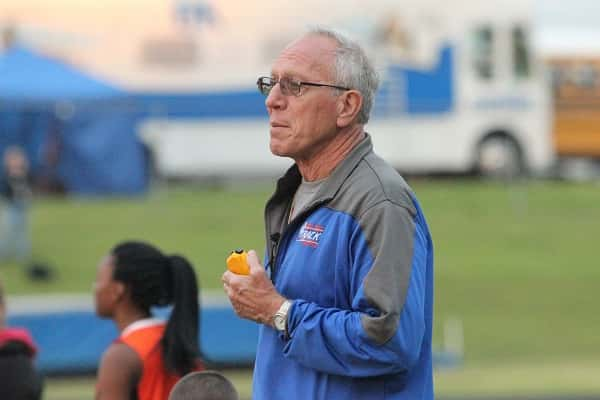 Long-time track and field coach and supporter Coach Chuck Gullo has been a part of track programs around Western Kentucky for many years. He and his wife Jana, can always be found at the triple jump pit, running those events and encouraging the athletes and later around the track working with and encouraging not only the Marshall County athletes but all the track and field athletes.
To recognize Coach Gullo for his tireless work with the track and field program, Marshall County is naming the Twilight Relays after him and the following from Coach Gullo is a thank you for the honor. Gullo started the meet back in the 1980's to which Coach Cory Westerfield said, "was an honor that was long overdue."
To the Coaching Staff at Marshall County , The Sole Supporters, and all of the involved with Track:
I cannot begin to express my surprise and gratitude for the honor of having the Twilight Relays named after me.  To me this is one of the highest honors I could have ever received.  God did me a great favor, as He let me run all of my life in competition from the 4th grade thru college. After College I got to run for fun and also got to coach and instill a love of running in all of those I could. 
Track and Cross Country have been my life for over 45 years and I thank God every day for what He gave me and for what He allowed me to do.
Again, THANK- YOU to all who made this possible. 
Coach Chuck Gullo