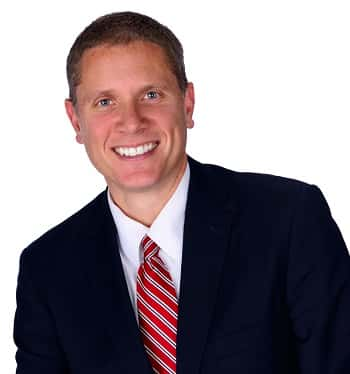 (BENTON, Kentucky)- Community Financial Services Bank (CFSB) Chief Executive Officer Betsy Flynn is pleased to announce that Jason Jones has been named Marshall County Market President.  Jason was previously Chief Banking Center Administrator and has been with CFSB since 1989.  During that time, he has served valued clients as a Teller, Customer Service Representative, Consumer Lender, Mortgage Lender and Banking Center Team Leader.  He is a graduate of Murray State University, Mid-South School of Banking in Memphis and the Graduate School of Banking at the University of Wisconsin – Madison.
Jason has worked with several community organizations including the Marshall County Chamber of Commerce, Marshall County Caring Needline, Juvenile Diabetes Research Foundation and the American Cancer Society.  He is currently the chairman of the board of directors of West Kentucky Community & Technical College, board member of New Pathways for Children, board member of the Marshall County Resource Center and a community volunteer for the Marshall County Governor's Scholar program.  Jason is also a member of the Independent Community Bankers of America Education Committee.  He is a member of Benton Church of Christ, where he serves as a deacon and a member of the finance committee.
Jason's wife, Kelly, is a teacher at North Marshall Middle School.  They have two children, Alec and Walker.  He is the son of Ed and Judy Jones of Benton.
Just like Jason, our Board members and management grew up right here in our community, they were not hired by a national recruitment firm from out of state or out of region!  Our market presidents and management are people you have known for years and know the values of our community.  Decisions are made right here, not in another state or region.  Our hometown bankers understand the financial needs of their community and are all very involved.  Each of our 215 bank owners are involved in organizations that give back to their community, from economic development to civic and nonprofit entities.  Regional cooperation is vital for economic growth and we do not limit ourselves to city or county limits.  The CFSB Team is very involved at the city, county, state and national levels and work diligently with elected officials and regulators to ease the burdensome regulations to allow us to serve our friends and neighbors.  We don't need regulations to treat our clients fairly, honestly and with respect – that is what we do every day.  When you call or enter one of our banking centers, you will be greeted by one of our 215 bank owners!