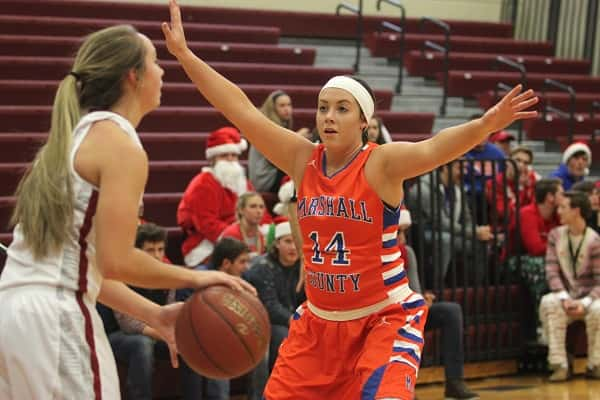 PADUCAH – The Lady Marshals move to 4-1 after their 57-17 win over McCracken County Friday. They held the Lady Mustangs to just nine first half points, all of those in the first quarter. Marshall County led 20-9 at the end of the first quarter, taking the lead after trailing 4-2 on five straight points by Paige Henson, a steal and basket by Tera Colson that was followed by two baskets by Hannah Langhi and a 3-pointer from Miyah Davis to go up 16-7.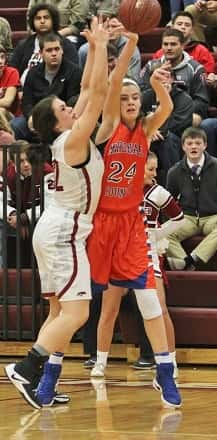 The first quarter ended on a steal and lay-in by Lexee Miller and two free throws from Lorin Powell for a 20-9 lead. They would hold McCracken County scoreless in the second quarter while putting 17 more points on the board to lead 37-9 at halftime.
Marshall County out-scored McCracken County 20-8 in the second half to cruise to a 40 point victory led by Langhi with 16 points and Powell with 11. Langhi led the team in rebounds with 9 while Powell pulled in 8. From the free throw line, the Lady Marshals were nearly perfect, missing one in the early minutes of the game and hitting 16 straight from there. From the line, Powell was 5 for 5, Colson and Davis 4 for 4 and Langhi 2 for 2.
Sarah Adams led McCracken County with 6 points as they struggled from the floor shooting just 17.9%. The Lady Marshals forced 25 turnovers, converting those into 20 points.
The Lady Marshals will travel to Owensboro today to play Grayson County at 6:00.

SCORING
Marshall: Langhi 16, Powell 11, Davis 9, Henson 9, Colson 8, Miller 2, Kerrick 2
McCracken: Adams 6, Hayden 3, Blackford 3, Beavers 2, Ellington 2, Morehead 1
Marshall: Field Goals 20/41, 3-pointers 1/4, Free Throws 16/17, Total Rebounds 28, Fouls 10, Assists 8, Turnovers 13, Steals 20
McCracken: Field Goals 7/39, 3-pointers 2/10, Free Throws 1/6, Total Rebounds 27, Fouls 14, Assists 3, Turnovers 25
| | | | | | |
| --- | --- | --- | --- | --- | --- |
| |  1st  |  2nd  |  3rd  |  4th  |  Final  |
| Marshall  |  20 |  17 |  16 |   4 |   57 |
| McCracken  |   9 |   0 |   2 |   6 |   17 |