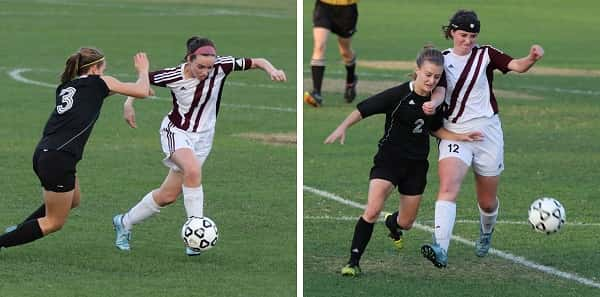 CAMPBELLSVILLE – Erica and Rachel McWilliams and the Campbellsville University Women's Soccer Team just returned from the NCCAA Tournament in Orlando, FL.  This tournament is comprised of Christian universities from the NAIA as well as NCAA D2 and D3 schools.  The team finished pool play in the tournament with a hard fought, 2 overtimes, 0-0 draw against Houghton College (NY), and a 2-1 win against Central Christian College of Kansas that propelled them into the semi finals where they lost to Oklahoma Baptist University. An unfortunate early own goal was the difference maker in the game.
This ended Erica's 4-year career with the Lady Tigers.  During that time span, the Lady Tigers compiled a 52-25-3 record and made it to post season play in 3 of her 4 seasons (twice to the NCCAA and once to the NAIA).  She accumulated 4 Goals and 4 Assists during this time.
For this 2016-2017 season, the Lady Tigers ended with an 11-8-2 record.  Erica was a Captain for her team and started all 21 games, averaging 70 minutes per game, and played Outside Midfielder, Attacking Center Midfielder, and Forward.  She recorded 2 Goals and 1 Assist during this season.  Rachel started 20 games and appeared in all 21 games, averaging 85 minutes per game, and played Defensive Center Midfielder.  Rachel had 1 Goal and 1 Assist this season.
In addition to soccer, the team together did mission work and had weekly devotions.  Erica and Rachel had such a fantastic year together and made so many memories as sisters!  Even though Erica's career has come to a close, Rachel's is just beginning. They will still be seeing a lot of each other on campus since their educational focus is in the same field.  Erica currently is pursuing a degree in Education for Middle School math/language arts and is to graduate in Fall, 2017.  She currently carries a cumulative 3.23 GPA.   Erica hopes to come back to the Marshall County area to teach and coach soccer.  Rachel is also pursuing a degree in Education but for Middle School math/social studies.  Rachel currently has a 4.0 GPA.