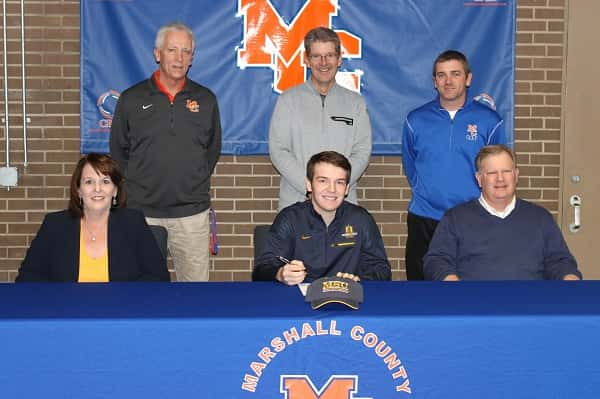 DRAFFENVILLE – Quinn Eaton signed his National Letter of Intent Thursday at Marshall County High School to play golf at Murray State University. Among his many accomplishments in his career on the Marshall County golf team, Quinn was the 2015 KHSAA Region 1 Individual Champion with a round of 67.
Quinn was selected to the 2014, 2015 and 2016 All KHSAA Region 1 Golf Team and a part of the Marshals Region 1 runner-up team that went to the state tournament the last two years.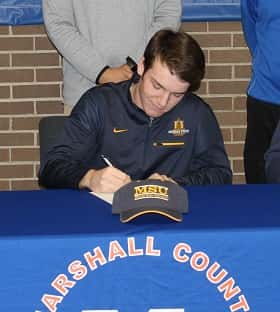 Quinn won the Paducah Tilghman Invitational in 2015 and 2016, was the Kentucky Junior PGA Winner at Cardinal Club in 2013 and in his six years on the high school team, was in the top five positions and held the number one position all four years in high school.
In his four years in high school, Quinn's match average as a freshman was 38.36, as a sophomore it was 36.58, his junior season average was 35.67 and as a senior, his average was 37.28 and 73.67 in tournament play.
Quinn is an Honor Roll student and is involved in Leadership Dynamics, FBLA, Gifted and Talented in Language Arts and Creativity, Peer Mentor and is active in his Church Youth Group.
"I'm really excited to further my golf career with a great team like Murray State", Quinn said. "They're a very competitive golf team."
Quinn went on to say that playing for Marshall County has been great and he wanted to thank all the coaches and parents that have helped him along the way.