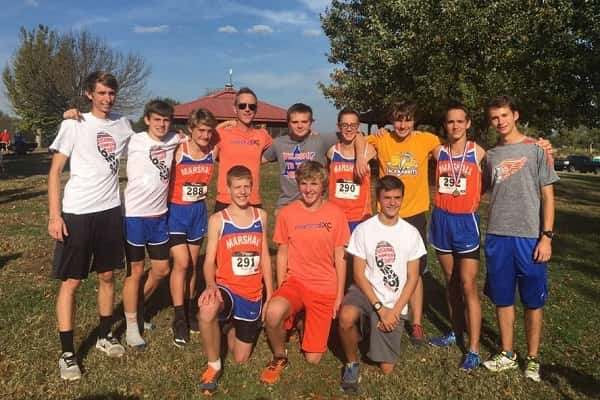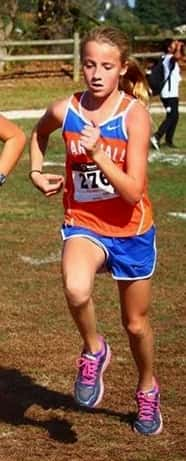 OWENSBORO – Coach Chris Kerrick said, "They needed to have the best race of their lives and did", of the Marshall County boy's cross country team on qualifying for state  at Saturday's Region 1 3A meet at Yellow Creek Park in Owensboro. The boy's team finished 5th behind 1st place Madisonville North-Hopkins, 2nd place McCracken County, 3rd went to Daviess County and 4th place to Graves County.
Christian Parker of Madisonville North-Hopkins took first with a time of 16:27.60. Marshall County's Jackson Yates placed sixth in 17:00.90. Behind Yates, Garrett Fulgham finished 18th, Mason Cosner 21st, Samuel Lanham 31st, Ethan Dowell 37th, Cole Wyatt 44th and Knox Sandlin 49th.
Marshall County 7th grader, Alexia Minter, qualified for state with a 20th place finish in 22:27.50. Karlee Hoffman from Daviess County won the girl's Region 1 title finishing in 19:40.00. Daviess County took four of the top five places Saturday going on to win the team title, Graves County finished 2nd and McCracken County 3rd.
For the Lady Marshals, behind Minter, Tarryn Story finished 17th, Jordyn Ray 25th, Bailey Sandlin 31st, Sarah Knoth 45th, Haley Ford 46th and Chloe Kerrick 47th.
The KHSAA State Cross Country Meet at the Kentucky Horse Park in Lexington will take place on November 5th. The Class 3A boy's race will start at 1:30 EST and the girl's race at 2:15 EST.