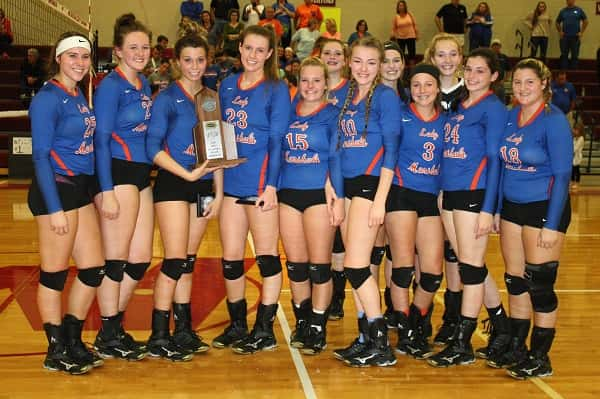 PADUCAH – Marshall County has played McCracken County closer than any Region 1 team over the four years of Lady Mustang region dominance, and again in Thursday's tournament championship they would play them close, leading the majority of set one before falling in three games (25-22, 25-22, 25-11).
An emotional fifth year Head Coach Dan Langhi following the game said he has had some of the six seniors for five years saying, "Not very many coaches get to coach kids for that many years, those seniors are all friends", crediting them with bringing the program back to the top.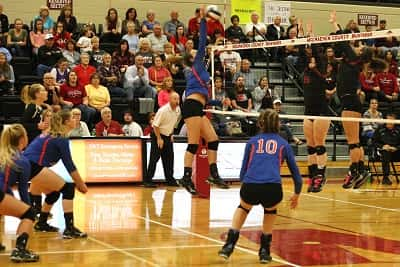 "You build a bond and you hate to see them not reach that pinnacle they've been working for", Langhi said. Many of the six graduating seniors have been a huge part of the program for five to six years -Kirsten Walker, Paige Henson, Hannah Langhi, Ragan Harris, Alexis Hines and Lakin Reed.
"We played hard and I think we just ran out of gas", Langhi said. "Around this area, you don't face that kind of relentless attack. They refuse to give up on bringing a ball up. There were a couple of balls that if we were playing anyone else, they were down."
Langhi said this season they played the toughest schedule they've ever played to get to the level that is needed to compete with teams like McCracken County and those in the eastern part of the state, where the Lady Mustangs, under Head Coach Tim Whitis, dedicate a large part of their schedule to.
The Lady Marshals jumped out to an early lead in the first set, holding onto the lead behind kills and hits that earned points from Hannah Langhi and heads up play by the team until the Lady Mustangs tied the game at 20-20 behind points on kills by Cate Hyde and Rayne Copeland. They went on to out-score the Lady Marshals 5-2 for the first set 25-22 win earning the set point on a kill by Courtney Griffith.
The second set began on a 4-1 Lady Marshal lead before the Lady Mustangs tied the game 4-4. McCracken's Hyde and Ragan Harris would exchange kills for a 9-7 Marshall County lead before the Lady Mustangs scored seven straight points to lead 14-9. The Lady Marshals closed the gap, trailing 21-19 but went on to lose the second set, again by 25-22.
Falling behind early in set three 3-0, the Lady Marshals tied it 3-3, before falling back 7-4 behind two straight kills by Hyde, a lead the Lady Mustangs would stretch out the remainder of the game to win the set 25-11 for the Region Championship.
Langhi spoke about the main reasons you coach is to build bonds and prepare them for life after high school saying, "In the last time out I called, I said let's not even think about volleyball right now because I felt like they were kind of letting down. I said you're going to have moments in your life that stuff's going to happen to you that you can not control and what defines you is what you choose to do in that instance. Right now you can say things aren't going right or you can fight to the end."
Hannah Langhi finished the night with 11 of the team's 14 kills and Paige Henson, Langhi and Abbey Harrington shared in the teams 29 digs in the game. Langhi, Henson and Clara Bradley were named to the Region 1 All-Tournament Team.
The Lady Marshals finish the 2016 season with a record of 28-12. McCracken County (30-10) will play Henry Clay (34-6) November 4th at Valley High School in the first round of the KHSAA State Tournament.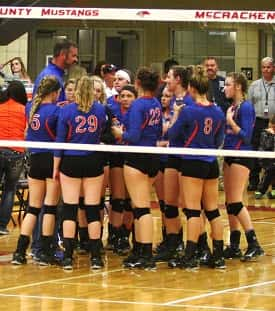 All-Tournament Team
Sarah Gardner, Hickman County
Keely Hawkins, Community Christian Academy
Abigial Cima, Christian Fellowship
Cassidy Canler, Carlisle County
Sydney Matheny, Graves County
Hailey Knisely, Graves County
Hannah Gilbert, Ballard Memorial
Tessa Blankenship, Ballard Memorial
Hannah Langhi, Marshall County
Paige Henson, Marshall County
Clara Bradley, Marshall County
Cate Hyde, McCracken County
Carsey Harned, McCracken County
Sarah Englert, McCracken County
Courtney Griffith, McCracken County – Region 1 Player of the Year
Tim Whitis, McCracken County – Region 1 Coach of the Year