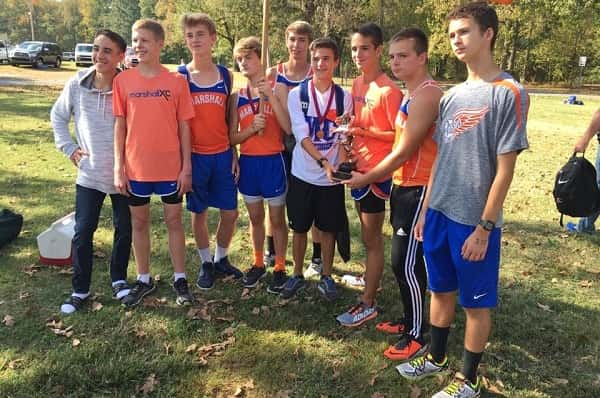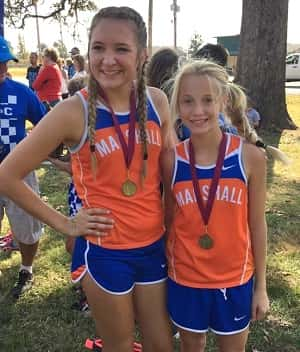 PADUCAH – Marshall County's Jackson Yates won the boy's varsity race in Saturday's McCracken County Invitational at Stuart Nelson Park finishing in 17:16.58, just over four seconds in front of second place finisher Wes Grogan from McCracken County. Marshall's Garrett Fulgham posted a top 10 finish, placing 10th in a field of 119 runners.
The team from Logan County took first, McCracken County 2nd and Marshall County 3rd among the 12 teams.
Marshall County Middle School 7th grader Alexia Minter, had the best finish for the girl's placing 15th in 22:25.01. Jordyn Ray turned in a strong 20th place finish in a field of 96 runners. McCracken County won the team title with the Marshall County team taking 4th.
In the boy's Middle School 4,000 meter race, Ethan McCarty finished 4th in 15:36.07 for the Marshals with Isaiah Kirby and Thomas McLean finishing in the top 20 in 12th and 19th. Zoe Short finished 16th in 22:37.57 for the best Marshall County result in the girl's Middle School race.
Complete Marshall County Varsity results below.
| | | | | | | |
| --- | --- | --- | --- | --- | --- | --- |
| PLACE | ATHLETE | TIME | | PLACE | ATHLETE | TIME |
| 1 | Jackson Yates | 17:16.58 | | 15 | Alexia Minter | 22:25.01 |
| 10 | Garrett Fulgham | 18:14.72 | | 20 | Jordyn Ray | 22:50.18 |
| 17 | Mason Cosner | 18:38.60 | | 25 | Tarryn Story | 23:16.51 |
| 20 | Samuel Lanham | 18:48.59 | | 34 | Bailey Sandlin | 24:01.15 |
| 27 | Ethan Dowell | 19:18.05 | | 46 | Sarah Knoth | 25:20.24 |
| 28 | Cole Wyatt | 19:21.19 | | 65 | Haley Ford | 28:03.86 |
| 34 | Knox Sandlin | 19:41.84 | | 87 | Cora Robinson | 32:43.60 |
| 35 | Curtis Bradley | 19:44.33 | | | | |
| 45 | Jackson Reed | 20:39.65 | | | | |
| 49 | Alex Colburn | 20:49.41 | | | | |
| 80 | Justin Wilson | 22:35.28 | | | | |
| 112 | Nolan Yates | 28:24.09 | | | | |