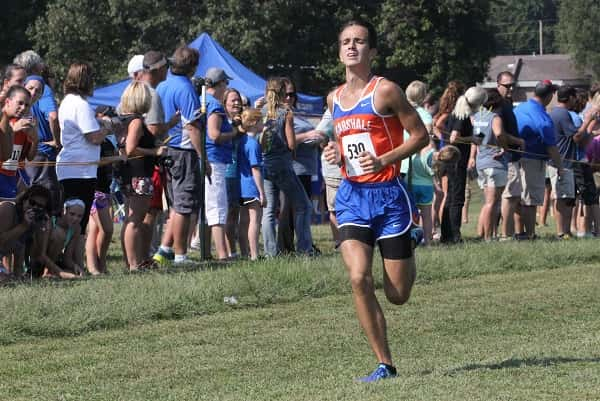 DRAFFENVILLE – More than 700 runners from four different states, elementary through high school, participated in the 37th Marshall County Cross Country Invitational Saturday.  Cape Notre Dame from Missouri captured the Varsity girl's race and from Tennessee, Henry County won the boy's Varsity title.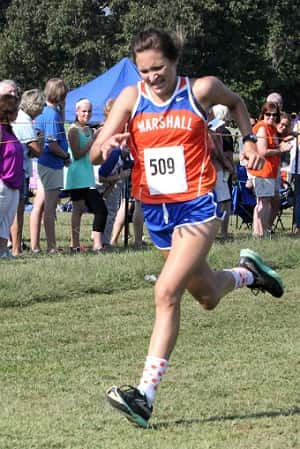 Notre Dame's Alaina Baumgart took 1st in 20:25.70 in girl's Varsity with teammates crossing behind her in 2nd and 4th in the field of 155. Jordyn Ray recorded the best Marshall County finish, playing 32nd in 22:58.40. The Lady Marshals place 10th in team final standings.
In the boy's Varsity race, the brother team of Titus Winders and Silas Winders from Henry County took 1st and 2nd. Titus crossed in 1st stopping the clock at 16:05.50 while Silas finished with a time of 16:29.50. Jackson Yates placed 9th as the top Marshal in 17:24.20 in the field of 183 runners to lead the team to a 6th place finish.
The Middle School 4K races were won by Ansley Bailey from Massac County in 16:41.60 and Jackson's Dylan Alexander in 14:40.50 out of 248 runners. Tarryn Storyn took 4th (18:12.50) and Alexia Minter 5th (18:24.40) to lead Marshall County runners, placing 4th as a team. The Marshall County boy's team placed 5th with the best finish coming from Ethan McCarty (15:42.70). The boys from Burns Middle and girls from Jackson won the team titles.
In the Elementary division, 124 lined up for the girl's and boy's 1600 meters. Kimberly Hoover of Dawson Springs took 1st in the girl's race in 7:05.90 while Corbin Knight of McCracken County won the boy's race in 5:54.30. The best Marshall County finishes came from Benton Elementary's Kaylee Shope in 9th (7:56.60) and Joseph Higgins placed 42nd (8:36). McCracken County's boys and Burns Middle girls won the team titles. Benton Elementary took 2nd in the Elementary division.
Marshall County Varsity and Middle School results:
Varsity Girls 5K
Varsity Boys 5K
Middle School Girls 4K
Middle School Boys 4K 
22 Jordyn Ray 22:58.40
79 Bailey Sandlin 26:07.10
90 Haley Ford 26:49.90
95 Sarah Knoth 27:22.40
127 Sydney Reed 31:52.90
131 Cora Robinson 32:19.20
9 Jackson Yates 17:24.20
26 Garrett Fulgham 18:28.80
27 Mason Cosner 18:30.00
34 Cole Wyatt 19:03.00
56 Ethan Dowell 19:54.20
57 Knox Sandlin 19:58.60
66 Bradley Curtis 20:13.30
86 Alex Colburn 21:08.80
137 Justin Wilson 23:25.30
4 Tarryn Story 18:12.50
5 Alexia Minter 18:24.40
68 Zoe Short 24:49.60
87 Faith Burnett 30:32.70
93 Olivia Lane 33:24.70
8 Ethan McCarty 15:42.70
39 Isaiah Kirby 17:59.20
41 Thomas McLean 18:03.30
62 Jack Burkeen 19:00.70
82 Aidan Clinton 19:55.80
83 Jack Noles 19:57.20
102 Avery Minter 21:25.30
109 Zach Artis 19:57.20
120 Andrew Lanham 23:33.60