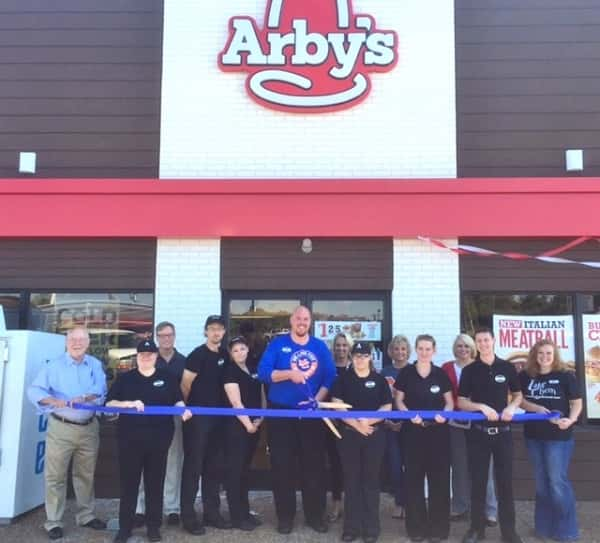 On Friday, September 2, 2016, the Kentucky Lake Chamber of Commerce in Marshall County helped chamber member Arby's in Draffenville kick off their Grand Re-Opening celebration with a Ribbon Cutting.
After closing their doors for a couple of months while the restaurant took on a complete remodel inside and out, the fast–food chain has re-opened for business and looks wonderful! The new layout inside provides for more seating with a rustic/modern setting. Arby's has also brought back their famous breakfast menu which they serve until 10:30 am and now they will be serving all their other great menu items all day which is great for those of you that take your lunch to work.
The Draffenville Arby's is located at 58 U.S. Highway 68 West and their hours of operation are Sunday-Saturday 5:00 am to 11:00 pm. Drop in and check out the new place, visit the drive-thru or give them a call at 270-527-2643.
Front Row L to R are employees, Karen, Charlie, Kaley, Tim Moeri-Manager (w/scissors), Audra, Charity, and Drew. Back row L to R are Jim Freeland, Chris Freeland, Debbie Beckner, Connie Evans, Dallas Young, and Whitney Gardner.