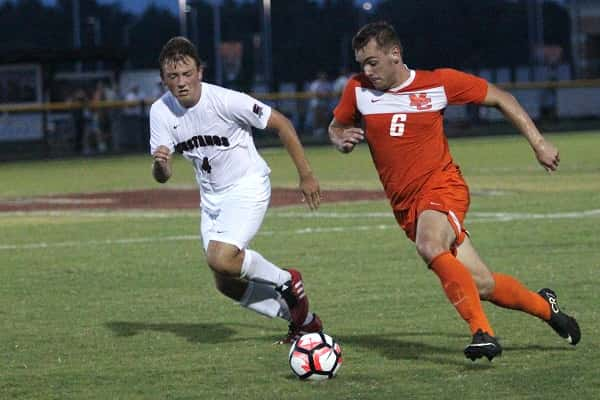 PADUCAH – In their fourth regular season meeting since 2013, Marshall County beat McCracken County 4-3 on Tuesday, a win Coach Andrew Pagel calls a "signature" win. Not as important as 2nd District wins, but with the Mustangs picked as one of the 1st Region favorites and the "chatter" that precedes the game, it's a nice win.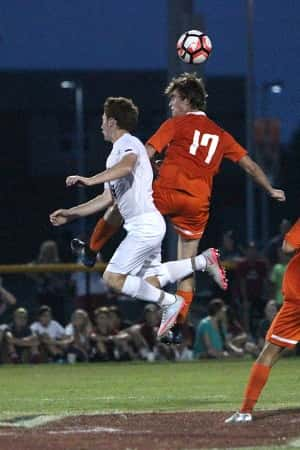 Including two Regional Tournament wins over McCracken County in 2013 and 2014, the Marshals record against the Mustangs is 4-1-1.
The Marshals have controlled possession over recent opponents 60% to 40%, but this was not the case Tuesday at McCracken County. Coach Pagel said of the Mustangs, "they build well and we knew we would have to absorb a lot of pressure."
That pressure was absorbed well by Marshall forwards Dawson Jolley, Caleb McNeely and Austin Stockdale. The three combined for all four of the Marshals goals, the first by McNeely on his second of two straight penalty kicks in the box, the first missed but goalkeeper Adrian Martinez was given a yellow card for jumping off the line before the kick. McNeely sent the second into the net for the 1-0 lead ten minutes into the game.
Less than five minutes later, McCracken's Preston Wright tied the game followed by a couple of shots on goal by Stockdale that missed just right, Jolley from just inside mid-field and another Jolley kick on a penalty kick 10 yards outside the box the was saved by the keeper.
The Marshals took another penalty kick just outside the box by Seth Strader that was denied by the keeper. Keagin Watkins saved the go-ahead goal at the other end by the Mustangs with two minutes left in the half.
Just before the first half ended, Jolley took the ball from mid-field, finishing it off in the back of the net to give the Marshals a 2-1 lead.
Less than four minutes into the second half, a goal by McCracken's Caleb Perry tied the game 2-2 before the Marshals regained the lead on a goal by Stockdale that came from the corner near the flag and found its way into the net. Perry with his second goal of the game, tied it up 3-3 with 9:20 remaining in the game and with 6:32 left to play, Jolley worked the ball around in front of the net and sailed it past the keeper for the game-winning goal.
The Marshals improve to 4-1 and will play at Madisonville-North Hopkins Thursday.