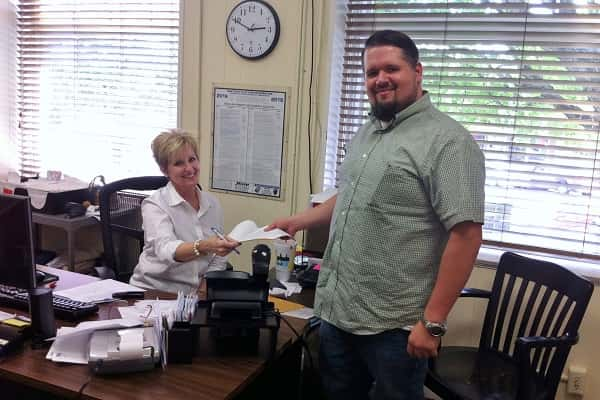 BENTON – Justin Lamb has officially announced his candidacy for Benton City Council.
Lamb is a lifelong resident of Marshall County, growing up in the Olive community before moving to Benton in 2014. "After prayerful consideration, I have decided to seek a seat on the Benton City Council so I can give back to the community that has provided so much for me and my family throughout the years."
This will be Lamb's first attempt at elective office and he has cited a need for fresh ideas and new faces in city government as his main objective in running. "For government not to become stagnant and for it to work at its best, we need new people from different backgrounds to step up to the plate and offer fresh ideas to keep our city moving in the right direction," Lamb said.
Lamb grew up in a working-class background and is the son of Kevin Lamb, a member of the Carpenters Union Local 357, and Karen Lovett, a waitress at Fast Eddie's in Fairdealing and Kay Lee's Farmhouse in Aurora. Lamb is the grandson of Gary and Connie Lamb of Olive, Donnie Lovett of Benton, and Jack and Flo Darnall of Benton.
Lamb has been married seven years to his wife Lexie, the daughter of Tommy and Norma Cope of Hardin and the granddaughter of Bro. Glenn E. and Mae Cope of Murray and Halford and the late Ruby Nance of Mayfield. Lamb and his wife reside in the South Benton precinct with their eight -year old nephew, Christopher Thompson.
Lamb was educated in the Marshall County Public School System having graduated in 2005. He is currently attending Murray State University pursuing a Bachelor's Degree in Public Relations and is presently employed at Manley's Four Little Pigs in Benton where he has worked for the last 9 years.
An avid local historian, Lamb has been the author of a popular local history column which is now featured on Marshall County Daily.com and is currently host of "A Walk in Time" oral history program on Mediacom Channel 8.
Lamb is a member of Olive United Methodist Church and is active in the United Methodist Men's Ministry. He currently serves on the Marshall County Exceptional Center Board of Directors, Jonathan Elementary Site-Based Decision Making Council, and is a proud member of the National Rifle Association.
In the coming months, Lamb plans to run a vigorous campaign to introduce himself to the voters of Benton. "I come from a very humble background and was brought up to understand that I am owed nothing, and that if I want something, then I am going to have to work for it," Lamb said. "I plan to work hard to earn the trust of the voters of Benton, and if elected, I will work equally as hard for them as their councilman."
The election for Benton City Council will be held on Tuesday, November 8, 2016.