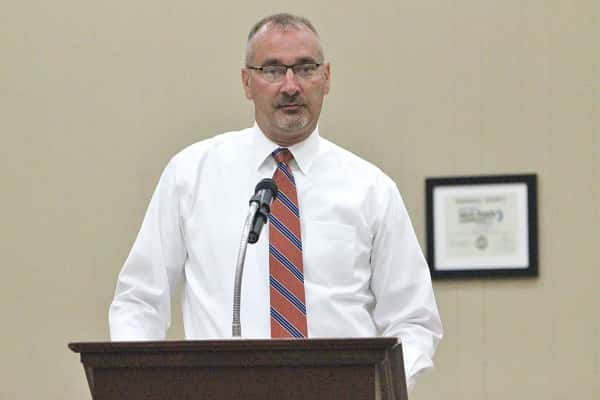 BENTON – [VIDEO FOLLOWS REPORT] Marshall County Fiscal Court received a quarterly update from ABC Administrator Scott Brown reporting $49,115.08 in fees with 25 establishments, five of those restaurants, 16 malt beverage package stores, two private clubs and two package stores. Brown said many more businesses will open in the next quarter.
CORRESPONDENCE
Lake News
The court approved their annual ad in the Lake News AmeriBration insert at a cost of $819.00.
OLD BUSINESS
County Road Aid
The court approved the total amount of $1,277,616.62 in the County Road Aid Resolution and Agreement.
Annual Bids
Clarifications were made to the Fire Protection and Maintenance bid from First Line Fire Extinguishers. The annual maintenance cost from First Line Fire Extinguishers is $825.55 compared to over a $1,000 from Simplex. The court approved the bid of First Line.
Random Drug Screen bids were awarded to Insight and county employee physicals bid by Dr. Kyle Egner at Egner Chiropractic was approved.
NEW BUSINESS
Building Inspector Contract
The contract of Randy Duke with the government rate for travel added, was approved by the court.
Ordinance #2016-06
The Administrative Code Ordinance second reading was approved by the court.
Fire Protection Board Appointments
Donald Kilby's term on the Palma-Briensburg Fire Protection board expires on June 30, 2016 and the court approved his reappointment upon recommendation.
Aundrea Fralicx and Amanda Holley have resigned their positions on the West Marshall Fire Protection board. The court approved upon recommendation, the appointment of Mikel Green to the board.
The term of Rhonda Henson is due to expire on the West Marshall Fire Protection board and the court re-appointed Henson upon recommendation.
Brett Edwards was approved by the court for an appointment to the East Marshall Fire Protection board due to a retirement.
Bank Account Signees
In an effort to make accounts more secure and to keep the Judge/Executive office aware of all transactions, signees will be Country Treasurer Emily Martin, Judge Kevin Neal and Deputy Judge Brad Warning as alternate to Judge Neal. The court approved this change.
Jonathon Creek Water District
Larry Conner's term on the board expires June 30, 2016 and the court approved the appointment of Josh Medley to the board whose knowledge of waste-water treatment will be an asset to the board. Judge Neal applauded Conner's 20 years as a volunteer on that board. Commissioner Gold voted 'no' saying, "I can't vote against Larry, he's been such a good board member."
Road Department
Wendy Greer has been approved as the new Marshall County Road Superintendent to replace Russell York who is retiring. Roy Wadkins will become the new Supervisor, replacing Franklin Sledd who is retiring. They will assume these duties on July 1, 2016.
EXECUTIVE SESSION
The court went into Executive Session to discuss a personnel issue at Fairdealing Olive Fire Department.
The next meeting of the Fiscal Court will be Monday, June 27, 2016.