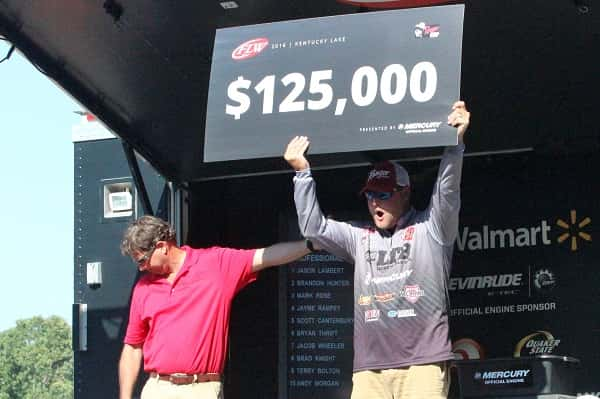 GILBERTSVILLE – The Walmart FLW Tour presented by Mercury and hosted by Kentucky Lake Convention & Visitors Bureau, made its 5th tournament stop the past four days at Kentucky Lake, the 11th visit to Kentucky Lake in the Tour's 21 year history. Beginning Thursday, 162 of the best professional bass-fishing anglers in the world began their quest to make Sunday's Top 10.
Jason Lambert from Pickwick Dam, TN, who led coming into Sunday, emerged the winner weighing in an astounding 29 pounds for a four-day record-breaking total of 97-2 to pick up his first-ever Tour win and $125,000. Lambert started off on Thursday with 18-9 and each day continued to raise his totals with 24-4 on Friday and 25-8 Saturday.
"Today was just one of those days where everything was perfect", Lambert said.
Lambert credits his success with a scrounger/Jerky J combo which he says he caught most of his fish with on the final two days. Lambert said another key to his success this past week was his Garmin electronics saying how important it is to have good electronics, especially since he likes to fish ledges.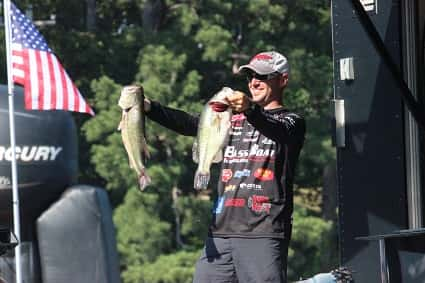 Benton's Brandon Hunter, second coming into Sunday, was the next to last to weigh in and took over the lead from Mark Rose weighing 22-12 for a four-day total of 89-6, which also set a new record temporarily until Lambert came up to weigh his five fish of the day.
Hunter, who claimed second place, said he had been looking forward to this tournament all year long and had success with a Lucky Craft crankbait. Hunter turned Pro in 2014 after five years as a successful co-angler on the FLW Tour.
"Any time you make the Top 10, it's a good feeling, and to do it at home with the local support and family here it just gave me chills to walk up on stage and hear everybody cheering", Hunter said.
Asked if he felt he had an advantage in a tournament on his home lake Hunter said, "Everybody has their fishing strengths. Mine is fishing off-shore. I live on Kentucky Lake and it's known as one of the best off-shore fishing lakes in the country so I definitely have a little bit of an advantage going into it. I've lived here my whole life so I can run around and if there are three boats sitting on a spot I can go on somewhere else."
Paducah's Terry Bolton took 9th with a four-day total of 76-6. Bolton said he's a little bit old-school and trying to re-teach himself some things about ledge fishing and threw the biggest swim baits he had.
Fifty fish were caught on Sunday among the 10 professionals for a total weight of 212-10.
Mark Norton of Nicholasville, KY won the Co-Angler division and $25,000 Friday with a two-day 10 bass weight of 32-6.
The ultimate goal of all the anglers and co-anglers is to earn enough points to qualify in the top 35 for the 2016 Forrest Wood Cup in Huntsville, AL August 4-7.
The top 10 pro finishers:
1st     Jason Lambert, Pickwick Dam, Tenn., 20 bass, 97-2, $125,000
2nd   Brandon Hunter, Benton, Ky., 20 bass, 89-6, $30,000
3rd    Walmart pro Mark Rose, West Memphis, Ark., 20 bass, 80-4, $25,000
4th    Jayme Rampey, Liberty, S.C., 20 bass, 79-5, $20,000
5th    Quaker State pro Scott Canterbury, Springville, Ala., 20 bass, 78-1, $19,000
6th    Bryan Thrift, Shelby, N.C., 20 bass, 77-6, $18,000
7th    Jacob Wheeler, Indianapolis, Ind., 20 bass, 76-13, $17,000
8th    Brad Knight, Lancing, Tenn., 20 bass, 76-13, $16,500
9th    Terry Bolton, Paducah, Ky., 20 bass, 76-6, $15,000
10th  Livingston Lures pro Andy Morgan, Dayton, Tenn., 20 bass, 70-12, $14,000
CLICK HERE for full results.
Click to scroll through photos from Sunday's final weigh-in.