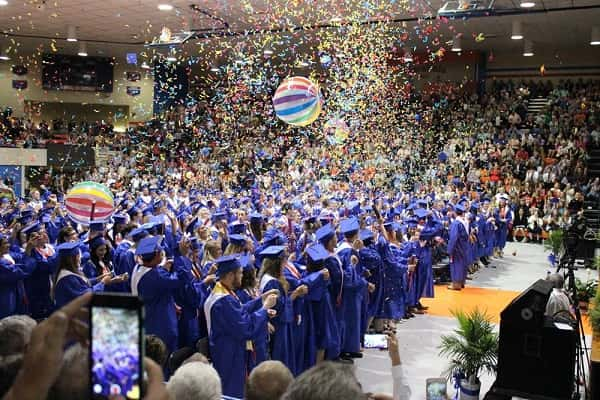 DRAFFENVILLE – Marshall County High School Class of 2016 held their 42nd Class Night and Commencement Thursday, May 19th and Friday May 20th at Reed Conder Gymnasium.
The Class of 2016 has amassed nearly $1.8 million in scholarship money, not including KEES money, and have been awarded 105 scholarships as of graduation. Among the 257 graduates, there are 61 Honor Graduates (3.5 GPA and above). The Valedictorian is Alec Foust and Salutatorian is Olivia Parker.
At Thursday's Class Night, Principal Amy Waggoner read the Presentation of Scholarships, Departmental Awards were presented, Honor Graduates and Distinguished Students were recognized. Technical Center Director Stacey Bradley recognized students receiving Skills Standards Certificates and College/Career Ready students.
Commencement Ceremonies Friday began with the Processional of Graduates. Student Council President Madison Ford addressed the class followed by the High School Choir rendition of "The Lord Bless You and Keep You". Olivia Parker gave the Salutatory Address and Alec Foust the Valedictory Address.
Presentation of Graduates by MCHS Administrators  was followed by the Conferring of Diplomas by Amy Waggoner and Declaration of Graduates by Superintendent Trent Lovett.
Click on the photos below to scroll through the Graduation photo gallery.