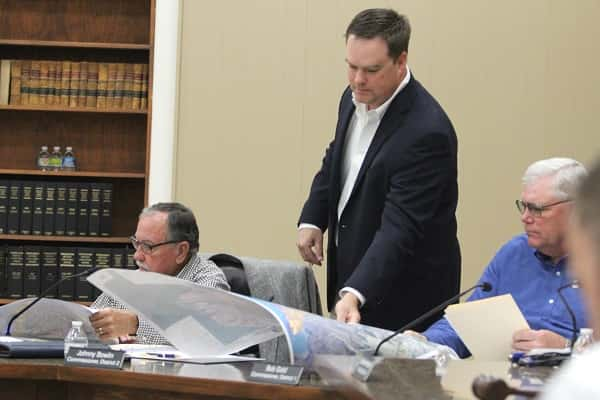 BENTON – [VIDEO FOLLOWS REPORT] Marshall County Fiscal Court met in regular session on Tuesday, May 17, 2016.
Brian Flynn with Rivercrest Engineering, Inc. addressed the court with information for the court about Sanitation District #1 and the Oak Level project. Flynn was asked by the court to prepare documents about the background and condition of these two locations.
Flynn said that Sanitation District #1 formed around 1980 primarily to serve Aurora and Kenlake State Park. It was a 60,000 gallons per day plant, then an 150,000 gallon plant was built in 1981 with the idea that the Aurora area would grow significantly. Currently there are 35 customers plus Kenlake State Park.
Currently the average daily treated flow of water is 28,000 gallons on a 150,000 per gallon a day plant. Flynn advised the court that the lift stations need a lot of work. Rehabilitation of the five lift stations would cost around $450,000 or a complete replacement at a cost of around $600,000.
Another option would be to purchase two 30,000 gallon per day package plants and set them on site and abandon the 60,000 gallon plant and rehabilitate the 150,000 gallon plant.
Flynn said the plant operates fine during normal day usage but when it rains it becomes a problem. Rain more than an 1 ½ inch to 3 inches puts the plant out of compliance.
Flynn said the plant operates but replacements are probably 10 years over due. Judge/Executive Kevin Neal commended the workers at the plant for doing a phenomenal job operating the plant on a shoe-string budget.
Flynn reported on the Oak Level Tank that still has work to be performed on the pump station including electrical work, facings to be set and connections to Benton Water. Judge Neal said plans are for the electrical to be done in the next fiscal year and their ultimate intent is to close the loan out.
Hollinger Road Hearing
The court recessed to go into a Public Hearing on Hollinger Road. Jason Strait with Western Rivers Boat Management  is trying to move their marine business into Marshall County and want the road access to Hollinger Road. Straight said they would like to raise the road due to no access at times throughout the year due to rainfall covering the road.
Judge Neal called for comments for Hollinger Road and there were none nor were there are comments against Hollinger Road. The road review team has looked into Hollinger Road and what needs to be done to make it a private road.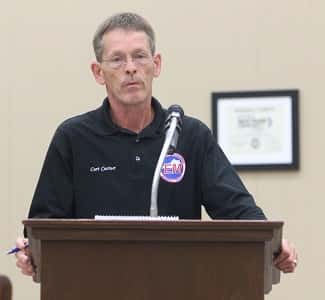 Emergency Management Director Curt Curtner, briefed the court on the storms that recently came through the Harvey-Brewers area. Curtner said Damage Assessment teams from Frankfort have surveyed the area and between damage in Graves County and Marshall County, approximately 60 structures received some damage at an estimated $2.8 million, $130,000 was Marshall County properties. Curtner said they hope to submit it and get a Presidential Declaration of Disaster which will allow FEMA money to help offset repair expenses.
Judge Neal read a Hazard Mitigation Plan drafted and implemented in 2006. The 86-page document is available on line at www.fema.gov. The court voted to sign the plan.
Curtner thanked the Harvey-Brewers Fire Department, Sheriff's Office, Road Department, Rescue Squad as well as those in adjoining counties who offered their assistance if needed.
CORRESPONDENCE
Chevy Dealership Vehicle Bids
Annual bids were put out and the court received correspondence from Parkway Chrysler who need additional information to submit a competitive bid. According to Neal, the information for the Dodge Charger bids with options came from the Sheriff's office. Neal asked Sheriff Byars for the options specs to be in his office by the end of the day on Wednesday, May 18th
Sheriff Byars said the bid package was prepared by Chief Deputy Maddox, but when they were informed that his office wasn't allowed to make the bids, Sheriff Byars assumed the Judge's office would be doing that.
Neal said the 'with options' items his office does not have and needs those options from the Sheriff's Office. Neal entertained a motion that by close of business on Wednesday (May 18) that the information must be in his office.
Byars said there was no need for a motion and he would have it there later that day. The motion was seconded by Commissioner Cocke. Votes in favor came from Cocke and Commissioner Bowlin and a vote of no from Commissioner Gold.
OLD BUSINESS
Ordinance #2016-04
The Budget Amendment Ordinance second reading was approved by the court.
Sanitation District #2
Judge Neal gave an update, saying he has been attending the board meetings in an effort help them. Judge Neal said information received in Monday's board meeting was not good saying "it is a very complex situation". Neal said the district is in bad shape when it comes to sanitation issues with challenges ahead. The plant is currently not operating.
NEW BUSINESS
Nuisance Violation Appeal
An appeal has been made in a nuisance issue. The Refuse Department is working with the property owner who has made efforts to clean the property. Commissioner Cocke said the property looks okay to him and feels many other properties in the area look much worse and the owner is making an effort to be in compliance.
Ridge Road
Commissioner Cocke said the re-design of the road needs to be done due to a safety issue before paying can be done.
Warren Lane/Foust Lane
Warren Lane turns into Foust Lane for about 200 feet where the paving ends. Two homes are on Foust Lane and recommendations have been made to add the 200 feet to the end of Warren Lane which would put that 200 feet under the county road system and can then be paved, which the court approved.
Emergency Memo of Agreement
In an event of a disaster the agreement would be in place to partner with Benton, Calvert and Hardin to continue governing and continue to provide assistance to each other. The court approved the agreement.
Miller Park Concessions/Bank Accounts
Help is needed to run the concessions for the summer and Judge Neal is requesting that two to three teenagers be hired to work.
The court voted to close the Park Board Foundation Account at Lake Chem and to change the other park's accounts signees to Emily Martin, Kevin Neal, Brad Warning and Dennis Foust
Fairdealing-Olive Fire Department
Recommendations have been made to replace Bonita Walker and Lyle Anderson whose terms on the board expire June 30, 2016 with Terry Carbaugh and Matt Hilbrecht which the board approved.
The Fiscal Court will hold a Budget Workshop on May 31, 2016 at 9:30 am.
The next meeting of the Fiscal Court will be Tuesday, June 7, 2016 at 9:30 am.