GILBERTSVILLE – McCracken County's Daniel Schroeder and Ashton Goff held the lead for quite a while Friday with a five-fish limit weighing in at 17-01 at the first day weigh-in of the KHSAA State Bass Fishing Championship at Kentucky Dam Marina.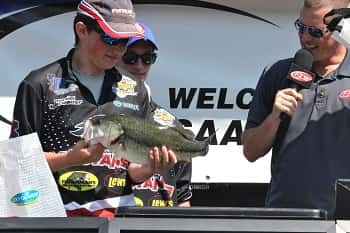 The Lawrence County High School team of Eric Price and Noah West weighed five fish in at 20-01 to take the lead from Schroeder and Goff.
Calloway County's Clayton Bobo and Myles McManus weighed the biggest bass of the day at 6-15 caught by McManus.
Peyton Porter and Barrett Washburn are the only qualifying team representing Marshall County High School. They sit in 30th place with a five fish catch weighing in at 10-14.
Sixty-two team posted a weight after Day 1 and all will fish again on Saturday taking off from Kentucky Dam Marina at 7:00 am with the weigh-in starting at 3:00 culminating in the crowning of the state champions.
Click the link for a full list of results from Day 1. Day 1 State Results