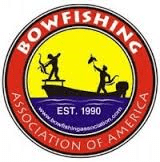 AURORA – The Bowfishing World Championship returns to Kentucky and Barkley Lakes this weekend after hosting the tournament in 2014 with a record turnout. The Kentucky/Barkley Lake bid for the tournament won over sites in Texas and Tennessee.
The tournament is a huge boost to the local economy from dollars spent on fuel, food and lodging. Hosted by the Bowfishing Association of America (BAA) which has been in existence since 1990, the tournaments help to reduce the spread of invasive fish species across the country.
Below is the flyer with all the information you need on this weekend's Bowfishing World Championship.