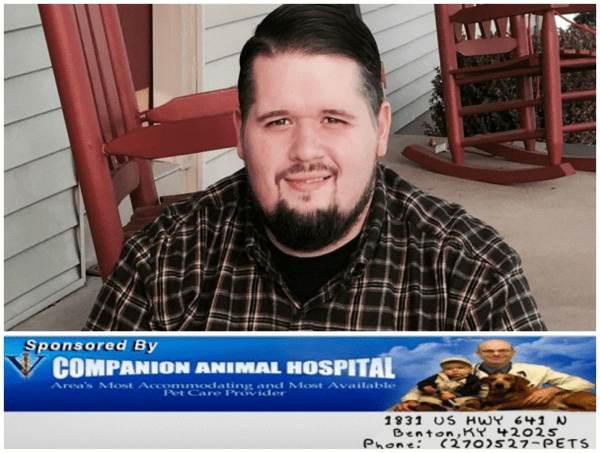 History of Mt. Moriah Primitive Baptist Church
Written by Justin D. Lamb
"There's a place near to me, where I'm longing to be
With my friends at the old country church
There with mother we went, and our Sundays we spent
With our friends at the old country church"
-The Old Country Church written by J.D. Sumner and James W. Vaughn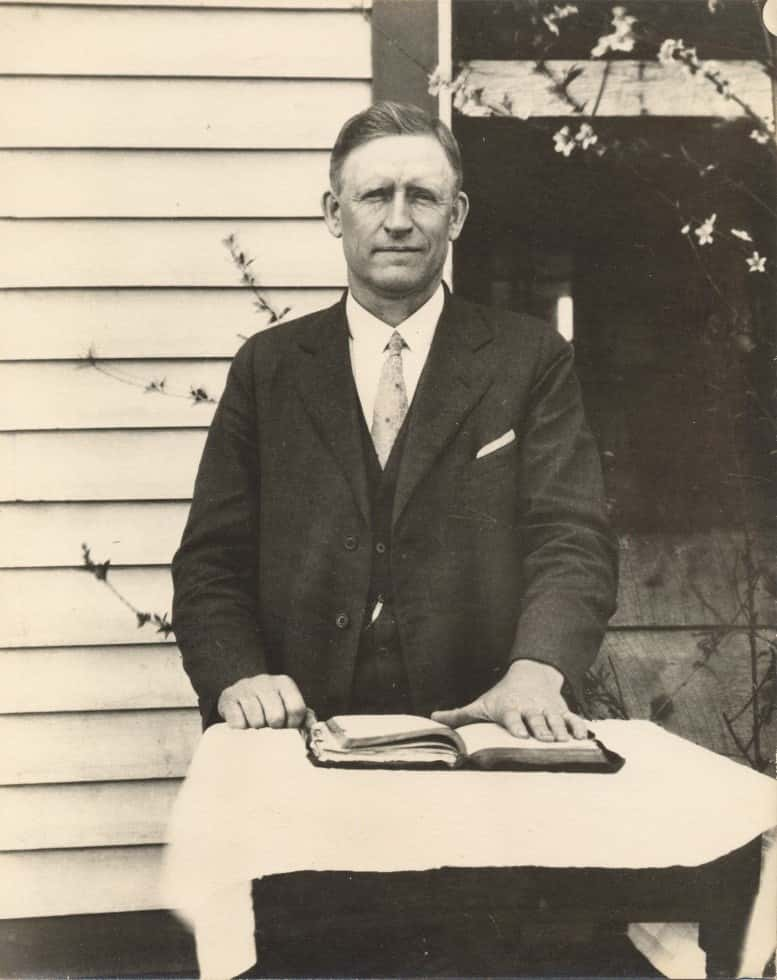 Elder Eddie M. Beshear, grandfather of former Kentucky Governor Steve Beshear and current Kentucky Attorney General Andy Beshear, served as Pastor of Mt. Moriah Primitive Baptist Church in the early 20th century.
(Courtesy of Beshear Family)
Located near Possum Trot, the Mt. Moriah Primitive Baptist Church is one of the oldest in Marshall County. Organized 172 years ago in August 1844 by Elder Isaiah King, the first members of the church were Dusten William, James L. Fooks, Cyrus Philley, John Lyles, Elijah Johnson, John Moss, David Eastwood, Thomas Gaither, and Daniel Eastwood.  Elder King was elected the first pastor and Burrell Hill was chosen as the first clerk of the church.
"My great grandfather, James L. Fooks donated a portion of land to the church and hewed the logs for the construction of a log church," said Sam Fooks who has attended Mt. Moriah Primitive Baptist Church all of his life.
"Isaiah King came from North Carolina and migrated here through Georgia," said Fooks. In late 1853, Elder Isaiah King was injured by a runaway team of mules and died shortly after in February 1854. "His death caused the church to disband for a period of time," said Fooks. "King was buried across the road from the church in what is now the King Cemetery," he said.
Services became irregular and several members began attending nearby New Hope Primitive Baptist Church. Many of the original members and some newly recruited members of Mt. Moriah met at Grubbs schoolhouse on the Arant farm off of Boone Hill Road in 1870 in an effort to reorganize the church. Elder Ebenezer Watkins was elected pastor and the church began to steadily grow throughout the next 30 years.
By the turn of the 20th century, the church has outgrown the schoolhouse and a need for a new structure to house the congregation was apparent. J.L. Fooks donated additional land in 1906 and a new frame structure was built which served the church for the next sixty years.
The late Louis Fooks, brother of Sam Fooks, described the church in his 2004 book, There's Music in Them Thar Hills: "The church house in our neighborhood was a reasonably large wood structure. At the front door there was a concrete step, one step up from the ground and another step up to the door. There were double doors. The steps extended a little past each side of the doors."
Louis Fooks recalled a time when the church almost burned down in the winter of 1940. "I remember I was at my uncle's house when the phone rang and my aunt took down the receiver and all of a sudden she yelled, "The church is on fire!" Fooks wrote.
"When I arrived at the church, Uncle Henry Kaler, Harrison Dunigan, and Delmo Harper were there. What had happened, Delmo had gone early that morning to build a fire in the old potbellied for Saturday services. There were sheet metal stove pipes that ran from the stove to a store bought metal chimney. There was a hole in one of the stove pipes near the wood shingles and this seems to be what started the fire" he wrote.
"The roof was very steep from the crown to where the fire started to about halfway down, and then it began to kind of flare out to the eave. There was enough snow on the wood shingles to keep the flames from coming through. The underside of the shingles was dry enough to just smolder. There was more smoke than fire," Fooks continued. The old frame structure survived the fire and lasted until it was replaced with a new brick building in 1965.
Fook also recalled first learning the news of the attack on Pearl Harbor while at church. "On Sunday, December 7, 1941, a group of us boys and girls were loafing around on the church house steps as we did often on Sunday afternoon. Someone came by and told us we were going to have a war. The Japanese had bombed Pearl Harbor. My question was, 'Where is Pearl Harbor?' and I thought we would whip them in six months. Two years later, I was in the jungle on New Guinea and we still hadn't whipped them," he wrote.
In its long history, several men have led the small country church as pastor, but the two longest serving were Elder Eddie M. Beshear and Elder Arlie Larimer. Elder Eddie M. Beshear, grandfather of former Kentucky governor Steve Beshear, became pastor at Mt. Moriah Primitive Baptist Church in 1914 and served the congregation until 1942.
"Elder Beshear was really respected," recalled Sam Fooks. "He performed a lot of the baptisms at Little Cypress and his two sons, Russell and Ed, Jr., made preachers and they often preached at Mt. Moriah" he said. Elder Beshear preached at several Primitive Baptist Churches throughout the Commonwealth of Kentucky before passing away in 1947 in Dawson Springs, Kentucky.
Elder Arlie Larimer joined Mt. Moriah Primitive Baptist Church in 1942 and became a deacon in 1948. After surrendering to the call, he made his first effort to preach in 1954, and in 1955, he became ordained. "Elder Larimer had just been ordained when my wife and joined the church in the 1950s," Fooks said. The following year, Larimer was chosen as pastor of Mt. Moriah, and in 1964, he became full time. At his death at age 95 in 2013, Elder Larimer had been preaching for 59 years.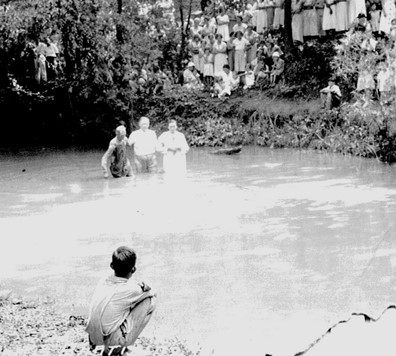 Myrtie Joe (Harper) Hawes being baptized by Elder Eddie M. Beshear in 1934 at Little Cypress Creek. Elder Beshear preached at Mt. Moriah Primitive Baptist Church for 28 years.
(Photo courtesy of Sissy Wommack)
"I never found anything that described my experience with the Lord until the Primitive Baptist Church," said Elder Larimer in a 1975 interview with the Louisville Courier-Journal, "Our religion is a happy religion. It brings peace to the mind. And we believe in a God that never has failed and never will fail."
That faith and strength in God has allowed the Mt. Moriah Primitive Baptist Church to stand the test of time as it continues to flourish today.