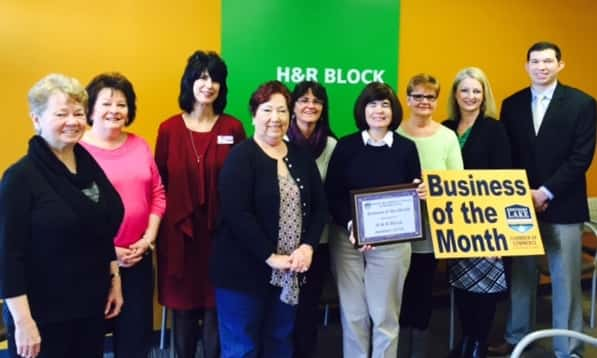 The Kentucky Lake Chamber of Commerce in Marshall County is pleased to announce that the H & R Block in Benton has been named "Business of the Month" for the month of January 2016. The business was established in 1970 and Manager/Franchisee Angela Powell has over 33 years of experience leading the business.
H & R Block has been located in Benton at several different locations over all those years, but has remained at its current location in the strip center at 86 Commerce Blvd since the latter part of 2008. After getting situated there in the newest location, they had to suffer through their first tax season amidst the January 2009 ice storm.
In addition to the obvious tax preparation that H & R Block is known for, Angela and her staff also handle payroll and bookkeeping for businesses, as well as offer tax advice.
Since tax season is upon us, this is the perfect place to stop by and let them help take the task of filing your return off your hands. Their hours of operation are Monday–Friday from 9:00 am to 6:00 pm and Saturday 9:00 am to 5:00 pm during tax season. Call 270-527-9952 today to make your appointment.