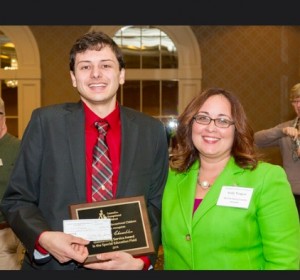 MURRAY, Ky. – The Kentucky Council for Exceptional Children has awarded the Outstanding Service Award in the Field of Special Education to recent Murray State University graduate Ray Chumbler IV. The first of its kind given by the KYCEC, the award was presented on Monday, Nov. 23, 2015 at 10 a.m. during KYCEC's statewide conference at Galt House Hotel in Louisville, Ky.
"I am feeling absolutely ecstatic about this. It is an honor to be the first to win this award," said Chumbler.
The council created the new statewide award to recognize autistic students in Kentucky who are proactively advocating for those who have the disability. Chumbler has worked to educate the public about his disorder by giving several presentations on campus and establishing the Ray IV Autism Scholarship Endowmentscholarship for Murray State students who are also on the autism spectrum.
In addition to his scholarship efforts, Chumbler was chosen as an award recipient for being "very proactive at the Kentucky Autism Training Center and being a reference for students with disabilities at the center," according to Dr. Barbara Washington, Chair of Adolescent, Career and Special Education as well as former KYCEC president.
Mike Miller of the KATC nominated Chumbler for the award. Turner Warren of Kentucky State was also selected as a 2015 award recipient for his advocacy work at the KATC.
Chumbler presented at the KYCEC conference about properly educating people with autism as well as the impact non-disabled people can have on those who fall on the autism spectrum. "The chances are great that others will encounter an autistic individual at some point in their life and it will be vital that they know how to successfully interact with them," he said.
Murray State alumnus and Muhlenberg North Middle School teacher Kelly Teague was also honored at the event as the Special Education Teacher of the Year. After hearing Chumbler's presentation, she chose to donate $500 to the fund.
Students will be able to apply for Chumbler's scholarship once the goal of $25,000 is met. Currently, more than $16,000 has been raised.
"It is absolutely necessary that I thank those who have already donated … as they are playing a key role in the establishment of this landmark scholarship at Murray State University," Chumbler stated. "Donors to the scholarship will always have my profound gratitude for choosing to donate."
To donate, contact Jennie Rottinghaus at 270-809-3406 or jrottinghaus@murraystate.edu.