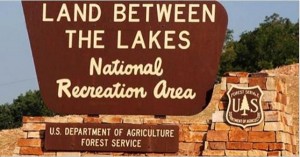 Applications now being accepted for the 2016 Seasonal Camping Program at Land Between The Lakes National Recreation Area.
The program allows members of the public to participate in a lottery process to stay on a campsite for an extended period of time through a special-use permit during the March-November season.
Members of the public can apply for one of the 123 campsites in the seasonal camping program.
Campsites are available for two to nine months at Hillman Ferry, Piney, and Wranglers campgrounds.
Cravens Bay and Taylor Bay campgrounds have a total of 23 one to six months campsites available.
Wranglers, Cravens Bay and Taylor Bay drawings held on January 9 at the LBL Administrative Office at Golden Pond.
Drawings for the others will be on January 16, with the Piney drawing at 9 am at Brandon Spring Group Center, followed by the Hillman Ferry drawing at 1 pm at Grand Rivers Community Center.