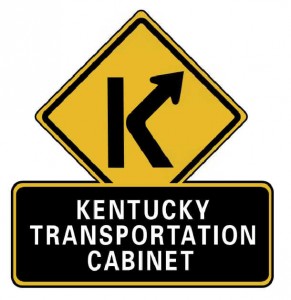 A contractor for the Kentucky Transportation Cabinet (KYTC) expects to decide around noon on Monday if the Tuesday, Dec. 1, target date will be a go for placement of a $20 million 550-foot main span on the new U.S. 68/KY 80 Eggners Ferry Bridge under construction at Aurora.
To prepare for the targeted move on Tuesday, KYTC engineers have issued a traffic advisory reminding motorists that vehicle traffic on the existing Eggners Ferry Bridge could be halted for up to 24 hours starting at about 7 a.m., CST, on Tuesday.
Movement of the 5.1 million pound arch will also require a halt of all commercial and pleasure boat traffic at the construction site.  KYTC engineers and the contractor plan to confer Monday morning to determine if weather conditions will be right for the move to take place on Tuesday.
Placement of the 110 ft. tall steel structure has been compared to a space shuttle launch, requiring near-perfect weather conditions, including winds of less than 10 miles per hour.
Steel for the basket handle arch has been constructed and painted on barges at the east end of the construction site.  The contractor and KYTC engineers plan to spend Monday running final system checks on the jacking system that will lift the new span into place, checking other critical equipment, and double-checking parameters for the assembled arch.
Lifting the massive 550 ft. steel structure into place is expected to take 8 to 12 hours to complete.
Kentucky Transportation Cabinet personnel, the U.S. Coast Guard, emergency management agencies for surrounding counties, Kentucky State Police, other police agencies will assist the contractor will establish a 2,000-foot clear zone around the construction area during the all-day move.
Cherokee Park, on the Marshall County side of Kentucky Lake, is considered a prime observation point for the public, offering an unobstructed view of the new bridge.  While there is a bluff overlooking the construction site on the Land Between The Lakes side between US 68 and Barnett Bay, there are limited trails and access requires an extended hike.
Once the span is safely in place on the main piers, KYTC District 1 Chief Engineer Mike McGregor said in coming weeks the contractor should be able to more accurately calculate the time needed to place a concrete deck on the structure and determine when traffic might be moved to the new bridge.
A $131.5 million contract for the new Kentucky Lake bridge was awarded to Johnson Bros. Corporation, a Southland Company, in February 2014.  Michael Baker Jr. Inc. and Palmer Engineering designed the unique, basket-handle tied arch model – among only a few dozen in the world.
Additional information is at www.lakebridges.com.