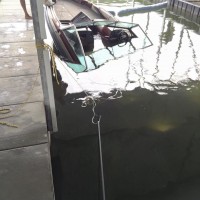 Marshall County Emergency Management personnel responded to reports of a submerged boat at KenLake Marina in Hardin on Saturday morning.
According to a report, the vessel was uprighted and only a small amount of fuel and oil polluted the waters at the marina. The agency said the spill was very small and contained quickly.
The Kentucky Environmental Response Team, Marshall County Rescue Squad and Aurora Riss Fire Department assisted the Marshall County Emergency Management Agency at the scene.
Additionally, the agency would like to express gratitude to KenLake Marina employees and the local residents who also assisted with the recovery and cleanup of the immersed watercraft.