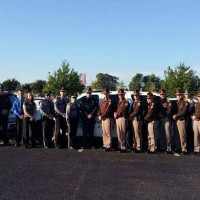 Several Marshall County law enforcement and first responders are showing their support as Kentucky State Police Trooper Cameron Ponder is laid to rest in Elizabethtown.
Thirty-one-year-old Cameron Ponder was shot to death late Sunday in Lyon County after a high-speed chase that reportedly began after the trooper pulled over Joseph Thomas Johnson-Shanks for speeding.
Police say Johnson-Shanks was shot to death by other Kentucky troopers after he refused to surrender.