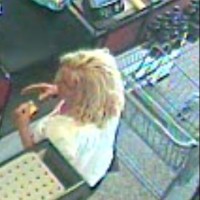 PADUCAH – Police in Paducah need your help as they seek out a woman who they say stole a wallet from a check-out counter at Banks Market in Lone Oak on August 13.
Paducah Police say Brenda Grooms, of Paducah told them that she left her wallet on a check-out counter next to the credit card machine. Surveillance video affirmed that the next customer in line, a woman with curly, shoulder-length blonde hair, picked up the wallet along with a bag of purchases.
The Paducah Police Department is asking anyone with information about the woman's identity to call them at (270) 444-8550 or Crime Stoppers at (270) 443-TELL. Information leading to an arrest or indictment may result in a reward of up to $1,000.