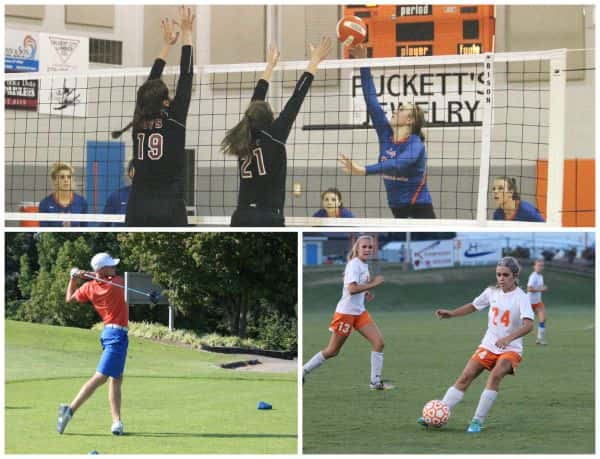 Boys and girls soccer, Marshall County and CFS volleyball and Marshall County boys and girls golf were all in action this weekend.
The Lady Marshals soccer team hosted the Lady Marshal Classic playing two games on Saturday, beating Greenwood 2-1 and tying with Anderson County 3-3. Other scores included two wins for McCracken County, 4-1 over Apollo and 5-2 over Anderson County.
Goals against Greenwood came from Brittany Kimbro and Katherine Howard and three goals in the Anderson County game were from Bailey Wood, Kayla Travis and Rachel McWilliams.
The Marshals traveled to Hopkinsville to play in the Boots and Butts Soccer Classic, losing 5-0 to Hopkinsville on Sunday following two Saturday wins 3-2 over Carroll County and 2-0 over Marion.
Marshall County volleyball traveled to Central Hardin to play Friday and Saturday in the Queens of the Court tournament. The Lady Marshals suffered three losses, 2-0 to Central Hardin (25-20, 25-20), 2-1 to University Heights (25-22, 18-25, 15-12) and 2-0 to Logan County (25-23, 25-19).
The CFS Lady Eagles played at the Plex in Paducah in the 1st Region All 'A' Classic with only one score of five games reported. CFS beat Murray 2-0 (25-10, 27-25).
The boy's golf team played in the Christian County Invitational at Western Hills in Hopkinsville. Hopkinsville won with a team score of 299, Trigg County took 2nd with 319, Christian County was 3rd with 323, Marshall County 4th with 332 and Webster County rounded out the top five with 338.
Tournament medalist was Trigg County's Carter Sholar who shot 72. Quinn Eaton and Garrett Howell led the Marshals with 78's, D.J. Pigg shot 84, Tyler Powell 92 and Drew Puteet 97.
Marshall's girl's team played in the Bowling Green Invitational Saturday at the Bowling Green Country Club. The Lady Marshals took 7th with 359 in the 15 team tournament with 1st place going to Elizabethtown with a team total of 305. Sacred Heart Academy was 2nd with 328 and Paul Dunbar 3rd shooting 331,
Lauren Hartlage from Elizabethtown won the tournament with 68. Bailey Tyree led Marshall County with 79, Savannah Howell shot 91, Hallie Riley shot 93, Karissa Jordan 68 and Kennadi Spraggs 107.