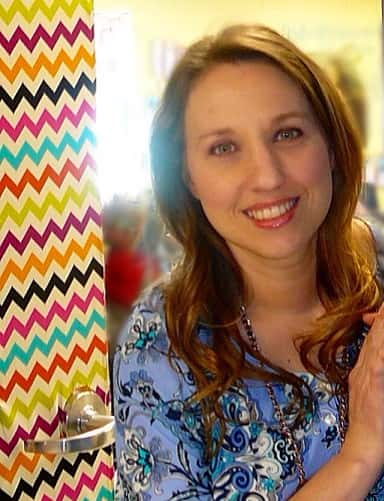 I was outside with a bunch of kids recently when we noticed a tree frog on a brick wall. The kids quickly gathered around as I started instructing them not to bother it, afraid they'd try to keep it. As I got closer I watched the tiny, light green frog jump off the wall and right onto the top of a young girl's head. She started screaming and flailing as I tried to calm her, "It's ok. It's just a frog. It's not going to hurt you."
As I was reassuring her, the frog just as quickly left her head and hopped back to the wall.  We all breathed a sigh of relief and I continued my speech on how it was no big deal when that creepy, little Amphibian jumped off the wall and landed on the front of my shirt. This is where I need to tell you that I am not a fan of frogs.
I gasped loudly and was getting ready to mimic the screams and flailing of the arms from earlier when I caught the eyes of that sweet little girl. She watched me intently and I immediately knew that I couldn't freak out (and I was so ready to). I took a deep breath, mustered my courage and went to move the frog off my shirt but before I could (thank you, Jesus) it jumped back to the wall.
The world is watching. How we act and, more importantly, how we react to life and its drama is being continually scrutinized. Living and loving like Christ should be who we are not what we do. Christianity isn't a set of rules at a certain building on the first day of the week. It's a lifestyle that influences every thought, action and word. Being people of peace, hope and love takes practice because it doesn't always come naturally. It sure doesn't for me.
As the headlines scream the dangers, drama and darkness let the church be the ones invading neighborhoods with love, fighting apathy with action and advancing peace and hope into the lives of our friends and family. Let those watching be astounded by our grace and compassion for those who sin differently than we. Let them marvel at how well we love our spouse, our children and maybe even our exes. Let them wonder why we reach out to the abused, addicted and broken. Let them ask why we feed the hungry, clothe the naked and visit the imprisoned.  Let them be inspired by how we fight, not for our own rights, but for the rights of the poor and helpless. Surprise them with how well we treat those we call our enemy. Let them be amazed at the passion we have for a carpenter from Nazareth. Walk alongside them, love them and show them who the Messiah was and is.
The world is wrecked with crisis. Show them what it means to have peace. Be proactive at practicing what you preach. And when you mess it up like I did so well, let the world see you're not perfect and you certainly don't have all the answers. You're just trying to follow the One who is and does.
---
Paula Harrington is the mother of five children and resides in Calvert City. She is compiler and editor of the books, Once Upon a Bible Class, A Common Bond and A Sunday Afternoon with the Preachers' Wives. Her work has appeared in Christian Woman magazine, the Christian Chronicle newspaper and numerous other sites and websites. When she's not teaching at one of Marshall County's finest schools, she's helping her family at the Calvert Drive-in Theater (and by helping, she means eating the cheeseburgers). She can be contacted at  harringtonseven@yahoo.com