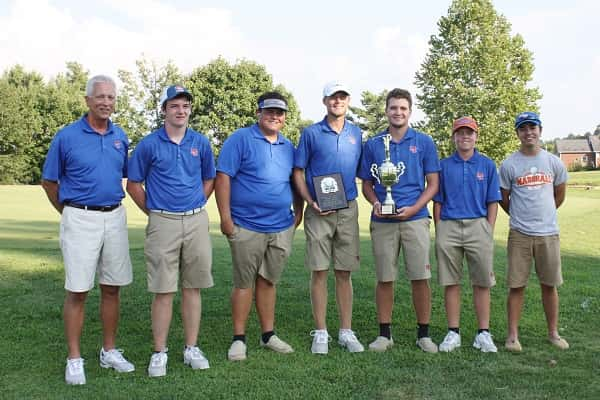 PROVIDENCE – The Marshall County boys golf team traveled to Providence, KY to play in the 2015 Webster County Invitational on Saturday, August 15th at the Providence Municipal Golf Course.  The tournament had a total of 14 teams competing for a team title.
Marshall County came away with a 1st place team trophy by shooting a team score of 309,  just good enough to edge Owensboro Catholic who had a team score of 310.
DJ Pigg added some excitement by tieing for first place with Owensboro Catholic's John Augenstein, as both golfers carded 1 under par 71's after 18 holes.  Those two golfers went into sudden death playoff to determine an overall champion.
Both golfers were able to par the first playoff hole however on the second playoff hole Augenstein, 2014 State Champion, was able to par the hole and DJ Pigg came up short by bogeying.
Quinn Eaton tied for third place with a score of 73, Peyton Porter shot 79 and Garrett Howell and Jay Nimmo each shot 86.