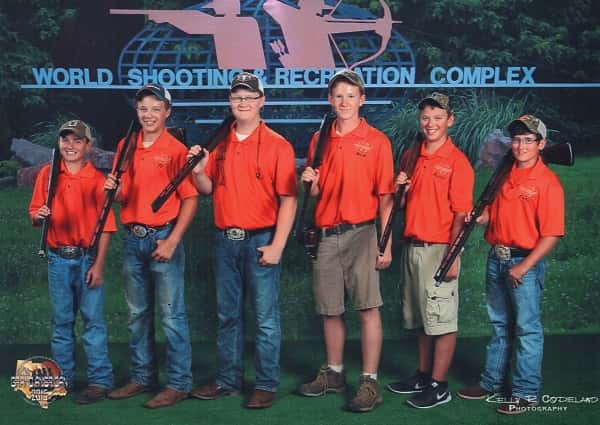 SPARTA, Illinois – The Jackson Purchase Clay Crushers participated in the 2015 Grand American AIMS National Championships August 1-4 at the World Recreation and Shooting Complex at Sparta, Illinois. The four-day event hosted over 2,000 youth shooters from all across the country.
The shooting event saw an increase of 16% in overall attendance as well as a 38% increase in participation in the doubles event and 30% increase in the handicap yardage event. Members of the team participated in sanctioned shoots this past year in 6 states in preparation for the national event.
The 4 day event was filled with some fun shoots with different types of firearms for the youth to compete with. The boys then shot individually in the doubles event and also the handicap yardage event on Sunday. Each of these events involve the shooters shooting 100 targets per event.
On Monday and Tuesday 5 team members competed as a team in the singles event. They were scored individually as well as a team. The squad is made up of 5 shooters so one of the members shot individually. The team placed 7th in the Sub-junior A class which was made up of some very talented and tough competition.
Individuals on the team also performed well throughout the event with several receiving awards for their division and events. These individuals are as follows:
Nathan Hartsell: Sub-Junior International Wobble Trap 3rd place and Sub-Junior 9MM pistol  2nd place.
Caleb Pahl: Pre-Sub Junior 18-21 yard Handicap, 4th place
Drew Wyatt: Pre-Sub Junior Doubles Class B 3rd place and Pre-Sub Junior Singles Class A 10th place.
Ty Moore: Pre-Sub Junior 18-21 yard Handicap 5th place, Pre-Sub Junior Doubles B Class Champion, Pre-Sub Junior Overall Singles Champion, Pre-Sub Junior Class A High All Around Champion.