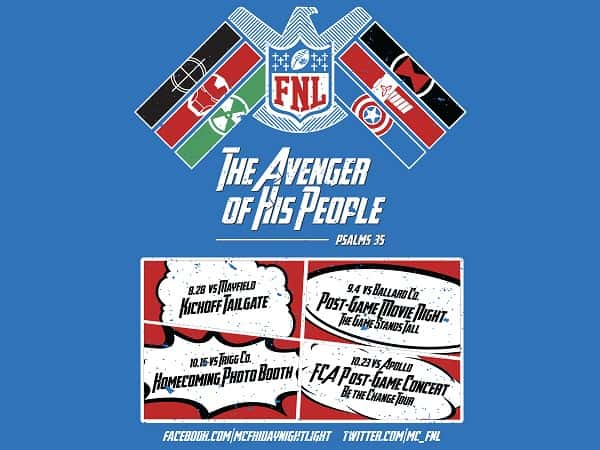 Friday Night Light is a Christ-centered 5th quarter community ministry where churches partner to provide Christian fellowship and entertainment
for students and their families before or after Marshall County home football games.
8/28 – FNL Kickoff Tailgate
This will take place on the practice field outside of Marshall County High School's Traylor Stadium, approximately 4:30-7pm prior to the Mayfield game.  Free burgers, hot dogs, chips, popcorn, snow comes, soft drinks and desserts are provided.  There will also be music, inflatables and games.  This family-oriented event is free to the community and is designed to build relationships and awareness for our other FNL post-game ministry events.
 9/4 – Post-game Movie Night
FNL will be showing the Christian football movie, "When the Game Stands Tall" on the practice field immediately after the Marshals take on Ballard Co.  This event is free to the community including movie-style concessions (nachos, box candy, and soft drinks).
10/16 – Homecoming Photo Booth
On the stadium concourse during the Marshals homecoming game against Trigg County FNL will setup a homecoming photo booth.  Under our tents, fans will have the opportunity create wacky photos with the various props and cutouts provided. This allows those dressed up for the dance
to do something fun and be positively influenced early in their evening. This will also give us the opportunity to promote our last, big event.
10/23 – "Be the Change" Concert Tour
This free concert tour includes OBB (headliner), All Things New, and SHINEBRIGHT (formerly Shine Bright Baby) and will take place in Reed
Conder Gymnasium immediately after the Marshals take on Apollo.  This tour is presented in conjunction with the Marshall Co Fellowship of
Christian Athletes and Walk By Faith Ministries.  All area youth groups are encouraged to contact FNL for preferred reserved seating by 100/16.
We can be contacted on Facebook and Twitter via the links and the bottom  of the graphic.  Or just call, email or text me directly at 270-703-5050 or adamsonpm@gmail.com