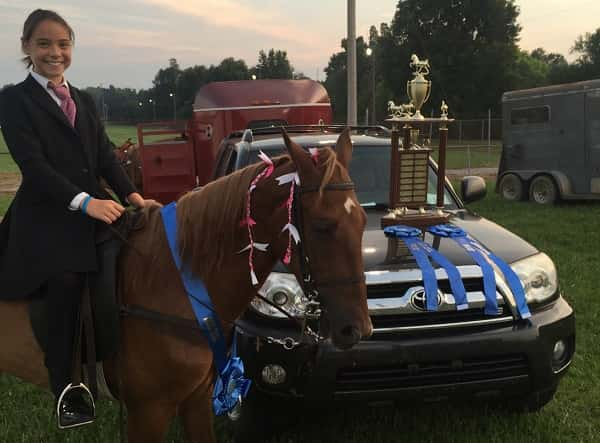 SHARPE – Mia Jaco, 11, and her horse Milo captured three blue ribbons and a trophy in their latest competition, July 25, in the Hopkins County Fair Horse Show at Madisonville.
Mia, daughter of Paul and Vi Jaco, will be a seventh grader at North Marshall Middle School this year.
Milo is one of three horses she rides in competition. Rider and horse compete in English dressage. Another of her mounts, Ritz, competes in Western dressage.
"Walking horses are gaited," Mia said, referring to the inherited four-beat walk of the breed.
This is her second year of riding in competition and her first full season.
"Last year I did really good," she said, after starting in mid-season. She took home blue ribbons in competition at Cadiz and Mayfield, and rode once in a local event at Lovett Park in Benton.
Mia also plays guitar and piano, is a sprinter on the Marshall County track team and has a black belt in the Korean martial art Taekwondo,
She plans to be a veterinarian.