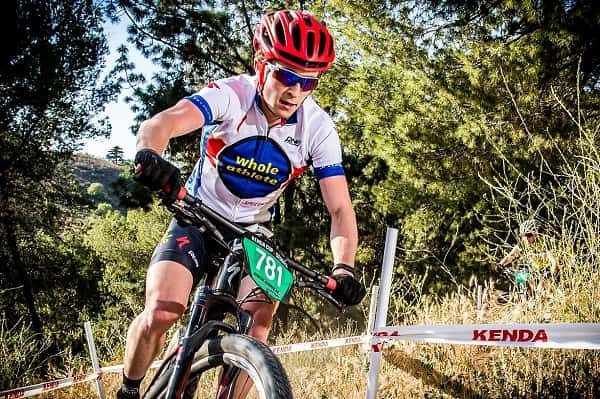 COLORADO SPRINGS, CO – USA Cycling announced on Saturday the 40 athletes who will represent the United States at the 2015 UCI Mountain Bike World Championships which are slated for Aug. 31 – Sept. 6, 2015 in Vallnord, Andorra.
Carson Beckett, who will be a senior at Marshall County High School, will be a part of that USA contingent for the second straight year after his selection last year to the team that competed in Hafjell, Norway, and will have that experience to draw on as the only returning Junior to the World Championships on the team.
As part of the Whole Athlete/Specialized team headquartered in San Anselmo, CA, under Head Coach Dario Fredrick, Carson just returned from a five-week swing through Montana, Utah, Colorado and California, competing in USA Cycling ProXCT races in the Elite Junior 17-18 division and the National Championships in Mammoth Mountain, CA.
He is currently ranked 12th in UCI (Union Cycliste Internationale) World Rankings. Carson's Whole Athlete/Specialized team had all five of it's Junior 17-18 team members and one U23 rider selected to the USA World's team.
Riding a bike for most of his young life, Carson says, "I have been blessed with where these two wheels have taken me".
Not only has he traveled the country racing, Carson has been selected to two USA Cycling European Race Camp teams along with the 2014 USA Cycling World Championship team, that have offered him the privilege to race and travel through Belgium, Germany, Netherlands, Norway and Austria.
Carson is also a member of the Marshall County High School Mountain Bike Team that has won the Tennessee High School Cycling League State Championship the last two seasons. The team is gearing up for season three which will kick off on August 30th at Chickasaw in Columbia, TN.
The US roster for the 2015 World Championships:
Elite Men Cross-country
Stephen Ettinger (Bozeman, Mont./Team Sho-Air/Cannondale)
Russell Finsterwald (Colorado Springs, Colo./SRAM-Troy Lee Designs Race Team)
Spencer Paxson (Bellingham, Wash./Kona Bicycles Factory Team)
Alex Grant (Salt Lake City, Utah/Riderbiker/Cannondale)
Elite Women Cross-country
Lea Davison (Jericho, Vt./Specialized Factory Racing)
Georgia Gould (Fort Collins, Colo./Luna Pro Team)
Chloe Woodruff (Prescott, Ariz./Team Stan's NoTubes/Niner)
Erin Huck (Boulder, Colo./Scott-3RoxRacing)
Mary McConneloug (Chilmark, Mass./Team KENDA-M&M Racing)
Rose Grant (Kalispell, Mt./Stan's NoTubes)
U23 Men Cross-country
Howard Grotts (Durango, Colo./Specialized Factory Racing)
Cypress Gorry (Brevard, NC/Whole Athlete-Specialized Cycling Team)
Keegan Swenson (Park City, Utah/Sho-Air/Cannondale)
Sepp Kuss (Durango, Colo./RMCF-Devo)
U23 Women Cross-country
Kate Courtney (Kentfield, Calif./Specialized Factory Racing)
Shayna Powless  (Roseville, Calif./Live CO-Factory)
Junior Men Cross-country
Christopher Blevins (Durango, Colo./Whole Athlete Specialized Cycling Team)
Anders Johnson  (Huntsville, Utah/Whole Athlete Specialized Cycling Team)
Carson Beckett (Benton, Ky./Whole Athlete Specialized Cycling Team)
Eli Kranefuss (Mill Valley, Calif./Bear Development Team)
Jerry Dufour (Birmingham, Ala./Team Mugshots)
Junior Women Cross-country
Haley Batten (Park City, Utah/Whole Athlete Specialized Cycling Team)
Rachel Anders (Sandy, Utah/Summit-Competitive Cyclist)
Kelsey Urban (Kentfield, Calif./Whole Athlete Specialized Cycling Team)
Ksenia Lepikhina (Boulder, Colo.)
Elite Men Downhill
Aaron Gwin (Wildomar, Calif./Specialized Racing)
Luca Shaw (Hendersonville, NC/SRAM/Troy Lee Designs)
Kiran MacKinnon (Santa Cruz, Calif.)
Neko Mulally (Pisgah Forest, NC/Gstaad-Scott)
Luca Cometti (San Diego, Calif./Intense Factory Racing)
Mikey Sylvestry (Truckee, CA/Troy Lee Designs)
Kevin Aiello (Rancho Santa Margarita, Calif./KHS Factory Team)
Elite Women Downhill
Jill Kintner (Bellingham, Wash./Red Bull/Norco Bicycles)
Junior Men Downhill
Charles Harrison (Trabuco Canyon, Calif.)
Bruce Klein (Altadena, Calif.)
Andras Simon (Foothill Ranch, Calif.)
Warren Kniss (Fremont, Calif.)
Jacob Jordan (Murietta, Calif.)
Jarod Hanson (Corona, Calif.)
Josh Rogers (Clayton, NC)