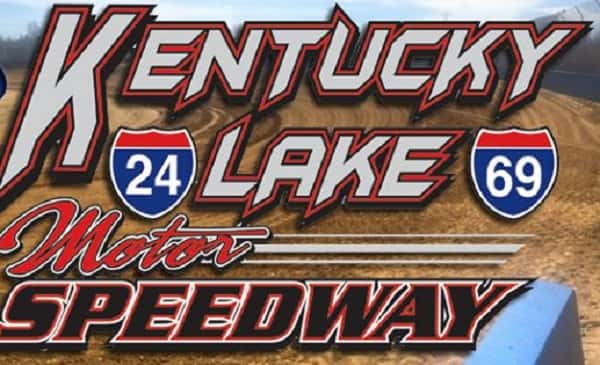 CALVERT CITY – Ricky Waggoner of  Martin, Tennessee held off Evan Taylor after a late race restart to take home the $2,500 victory at Kentucky Lake Motor Speedway on Saturday night. Waggoner who got around Tanner English on the initial green flag, led every lap of the 25-lap feature. English finished the race in the third position followed by Troy English and David Jumper, who rounded out the Top 5.
In the Super Late Model division, Tim Brown took home the win followed by Jarryd Holshouser and Brad Mitchell.
Bryce Jewell of Madisonville, Kentucky, won for the second week in a row in the Open Wheel Modifieds. Jewell, who also won his heat race, held off Trent Young making a late charge through lapped traffic in the 15-lap event. JR Mason, Bart Richardson and Chase Copeland finished in positions three through five.
The Stock Car division was won by Murray, Kentucky's Tya Cunningham, who took home her first win at Kentucky Lake Motor Speedway. Cunningham earned her first career victory Friday night at Paducah International Raceway. Tyler Stevens and Mike Lentz rounded out the field.
Mike Neighbors of Cerulean, Kentucky won his seventh consecutive event in Pure Stocks. Mike Watson, Matthew Rollins, Phillip Byard and Phillip Dunn were the remaining competitors in the Top 5.
Racing will resume on August 1st with a regular program featuring the Open Wheel Modifieds for $3,000 to win. More information can be found at kylakespeedway.com.
Results – Race No. 9, July 25, 2015
CRATE – 1. Ricky Waggoner, Martin, TN; 2. Evan Taylor, Woodlawn, TN; 3. Tanner English, Benton, KY; 4. Troy English, Calvert City, KY; 5. David Jumper, Fenton, MO; 6. Kevin Poole, Paducah, KY; 7. Joe Mike, Mayfield, KY; 8. Chris Shelton, Paducah, KY; 9. Neal Neisler, Cadiz, KY; 10. Michael Lewis, Harrisburg, IL; 11. Dean Morgan, Russelville, KY; 12. Adam Ray, Smithland, KY; 13. Credence Mott, Vienna, IL; 14. Scott Davis, Newbern, TN
Heat race winners: Tanner English, Ricky Waggoner
LATE MODEL – 1. Tim Brown, Benton, KY; 2.Jarryd Holshouser, Boaz, KY; 3. Brad Mitchell, Madisonville, KY
Heat race winner: Jarryd Holshouser
MODIFIED – 1. Bryce Jewell, Madisonville, KY; 2. Trent Young, Hopkinsville, KY; 3. JR Mason, Paducah, KY; 4. Bart Richardson, Bradford, TN; 5. Chase Copeland, Paducah, KY; 6. Jeff Elliott, Mayfield, KY; 7. Rod Reed, Mayfield, KY; 8. David Mitchell, Robards, KY; 9. Daniel Wadley, Herndon, KY; 10. Jay Isom, Hopkinsville, KY; 11. Hunt Gossum, Mayfield, KY; 12. Justin Cherry, Farmington, KY; 13. Chris King, DuQuoin, IL; 14. Mike Powers, Burlison, TN
Heat race winners: Bryce Jewell, JR Mason
STOCK CAR –  1. Talitha Cunningham, Murray, KY; 2. Tyler Stevens, Benton, KY; 3. Mike Lentz Herrin, IL
Heat race winner: Talitha Cunningham
PURE STOCK – 1. Mike Neighbors, Cerulean, KY; 2. Mike Watson, West Paducah, KY; 3. Matthew Rollins, Princeton, KY; 4. Phillip Byard, Clarksville, TN; 5. Phillip Dunn, Benton, KY