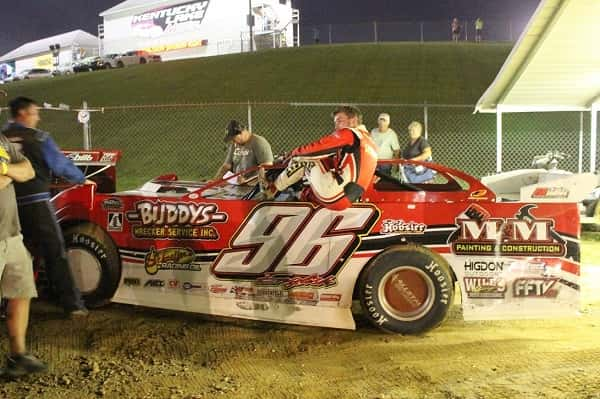 CALVERT CITY, Kentucky – Tanner English made a late pass of Evan Taylor to win the Crate Late Model feature Saturday night at Kentucky Lake Motor Speedway, taking home the $2,500 first-place prize money.
It was the first win of the season at his home track for the Benton, Kentucky, driver, who won six times – five times in the Late Model division and once in Crate – last season.
Taylor led the first 26 laps of the scheduled 30-lap event before surrendering the lead to English. A yellow flag caused by a spin by Barry Mason brought the race to an early conclusion, with 29 laps scored.
Behind English and Taylor were Ashley Newman, Brent Lewis and Jeff Walston.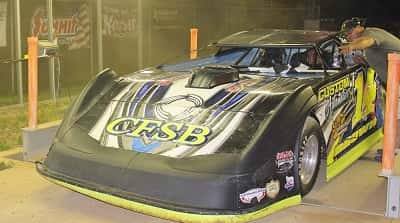 In the Modified division, Josh Harris of Utica, Kentucky, won his second in a row and third of the season. Harris took the checkered flag almost a full second ahead of Bryce Jewell, with Trent Young, Todd Riley and Jeff Elliott filling out the top five.
Other winners on the program included Tim Brown in Late Model, Joe Hamm in Stock Car and Mike Neighbors in Pure Stock.
Brown won for the second time in three races, taking the lead from the outside front-row starting spot over pole starter Jonathan Rowan and holding it all the way. Rowan was second, followed by Terry English, Jarryd Holshouser and Todd Hall.
Hamm picked up his first win, turned back Keaton Downing's bid for a second straight victory. Mike Lentz trailed Downing in third, with Mike Hodges fourth and Lyndell Pennebaker fifth.
Neighbors continued his domination of the Pure Stock class, cruising to his fifth win in a row over Mike Watson, Matthew Rollins, Chad Weiner and Billy Collum.
This weekend's racing at KLMS will feature the program that was called off because of rain on July 4, with extra prize money for the Stock Cars and Pure Stocks and a bargain price of $10 – $5 off regular price – for grandstand admission.
Stock Car competitors will run for $2,500 to win, a whopping increase over their usual $500 first-place prize, while the Pure Stock drivers will battle for a $1,000 winner's payoff, more than double the regular $400 first-place reward.
Results – Race No. 7, July 11, 2015
CRATE – 1. Tanner English, Benton, Kentucky; 2. Evan Taylor, Woodlawn, Tennessee; 3. Ashley Newman, Ripley, Tennessee; 4. Brent Lewis, Harrisburg, Illinois; 5. Jeff Walston, Paducah, Kentucky; 6. Grant Garrison, Walton, Kentucky; 7. Jeff Alsip, Florence, Kentucky; 8. Todd Coffman, Parksville, Kentucky; 9. Chris Shelton, Paducah, Kentucky; 10. Adam Ray, Smithland, Kentucky; 11. Joe Mike, Mayfield, Kentucky; 12. Andrew Allen, Paris, Tennessee; 13. Connor Meade, Clay City, Kentucky; 14. Austin Flint, Mayfield, Kentucky; 15. Neal Neisler, Cadiz, Kentucky; 16. Josh Cherry, Fulton, Kentucky; 17. Barry Mason, Benton, Kentucky; 18. Matt Filkins, West Frankfort, Illinois; 19. Ricky Waggoner, Martin, Tennessee; 20. Credence Mott, Vienna, Illinois; 21. Troy English, Calvert City, Kentucky; 22. Eli English, Benton, Kentucky; 23. Tait Davenport, Benton, Kentucky; 24. Kevin Poole, Paducah, Kentucky; 25. Angela Cummins, Calvert City, Kentucky
Heat race winners: Evan Taylor, Brent Lewis, Tait Davenport
Fast qualifier: Evan Taylor, 16.305 seconds
LATE MODEL – 1. Tim Brown, Benton, Kentucky; 2. Jonathan Rowan, Jackson, Tennessee; 3. Terry English, Benton, Kentucky; 4. Jarryd Holshouser, Boaz, Kentucky; 5. Todd Hall, Charleston, Missouri; 6. Charles LaPlant, East Prairie, Missouri; 7. Brad Mitchell, Madisonville, Kentucky; 8. Chris Hall, Sikeston, Missouri; 9. Dylan Thompson, Paducah, Kentucky; DID NOT START: Tim Mevert, Marion, Illinois
Heat race winners: Tim Brown, Dylan Thompson
Fast qualifier: Jonathan Rowan, 14.964
MODIFIED – 1. Josh Harris, Utica, Kentucky; 2. Bryce Jewell, Madisonville, Kentucky; 3. Trent Young, Hopkinsville, Kentucky; 4. Todd Riley, Benton, Kentucky; 5. Jeff Elliott, Mayfield, Kentucky; 6. J.R. Mason, Paducah, Kentucky; 7. Stephen Schnapf, Newburgh, Indiana; 8. Chris Hall, Sikeston, Missouri; 9. Hunt Gossum, Mayfield, Kentucky; 10. Chase Copeland, Paducah, Kentucky; 11. Jay Isom, Hopkinsville, Kentucky; 12. John Clippinger, Evansville, Indiana; 13. Lucas Lee, Paris, Tennessee; DID NOT START: Jeff Parks, Marion, Illinois; Corey Kellems, Island, Kentucky
Heat race winners: Bryce Jewell, Lucas Lee
Fast qualifier: Josh Harris, 16.340
STOCK CAR – 1. Joe Hamm, Dover, Tennessee; 2. Keaton Downing, Gilbertsville, Kentucky; 3. Mike Lentz, Herrin, Illinois; 4. Mike Hodges, Cumberland Furnace, Tennessee; 5. Lyndell Pennebaker, Kevil, Kentucky; 6. Kassidi Gibbs, Paducah, Kentucky; 7. Johnny Lane, Petersburg, Indiana; 8. Ben Shearon, Cedar Hill, Tennessee; 9. Trent Young, Hopkinsville, Kentucky
Heat race winners: Mike Hodges, Keaton Downing
PURE STOCK – 1. Mike Neighbors, Cerulean, Kentucky; 2. Mike Watson, West Paducah, Kentucky; 3. Matthew Rollins, Princeton, Kentucky; 4. Chad Weiner, Francisco, Indiana; 5. Billy Collum, Clarksville, Tennessee; DID NOT START: Mike Welch, Hopkinsville, Kentucky
Heat race winner: Mike Neighbors