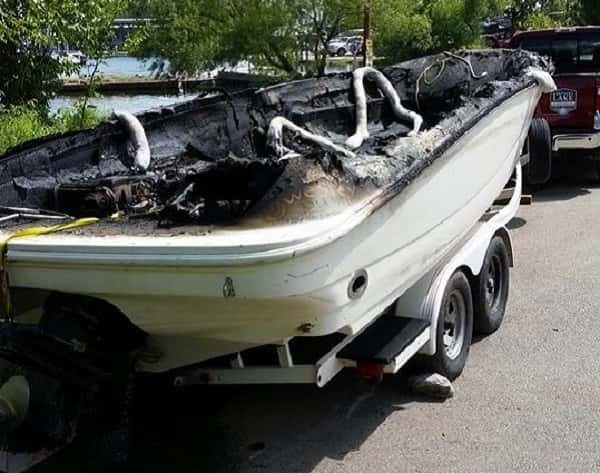 GILBERTSVILLE – A 23-foot boat damaged by fire on Sunday was raised from the waters of Moors Resort and Marina on Kentucky Lake.
Six people were suffered burn-related injuries when a flash fire engulfed the boat during refueling.
Capt. Garry Clark of the Kentucky Dept. of Fish and Wildlife listed the injured:
David Weir, 40, owner-operator of the boat, of Gilbertsville.
Gina Stoval, 44, Bardwell.
Mariann McCool, 21, Roseburg, Oregon.
Marion Olson, no age listed, Stark, Kansas.
Mckenzie Potter, 21, Gilbertsville.
Damion McCool, 1, Roseburg, Oregon.
Three of the victims, including the baby, were transported to Vanderbilt University Medical Center in Nashville. Two others were taken to Lourdes Hospital in Paducah and one was taken to Baptist Health Paducah.
All are in stable condition, Clark said.
The incident remains under investigation, but operations returned to normal at the marina, owner Mark Wood said. The fire did not cause significant damage to the marina facilities.
Marshall County Emergency Management Director Duane Hawes said the boat's operator reported the craft was having engine problems.