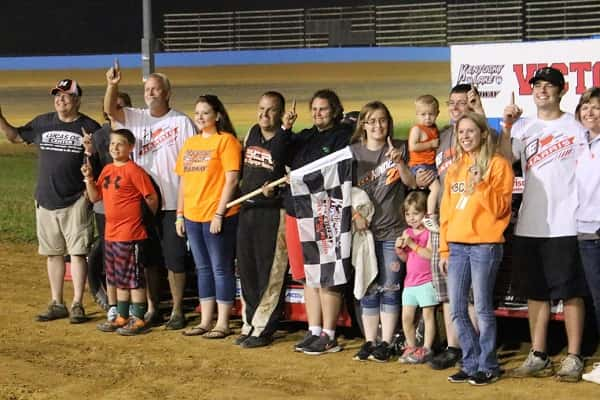 CALVERT CITY, Kentucky – Josh Harris came out ahead after a three-abreast duel for the lead on the 12th lap and went on to win the 25-lap Modified feature at Kentucky Lake Motor Speedway Saturday night, claiming $3,000 first-place prize money.
Harris, of Utica, Kentucky, became the first two-time winner in the open-wheel division at KLMS this year. He also won the season-opening event on April 11.
"I'm glad I was on the bottom" in the three-wide formation with Matt Cooper and Lucas Lee, Harris said. "It's a lot more hairy in the middle or up on top."
Cooper, who had led from the start, spun out of the three-car formation at the entrance to the third turn, giving Harris a lead he would never relinquish. However, he had to hold off repeated challenges before Lee faded to a third-place finish in the final laps.
"I know the fans were enjoying that," he said, referring to the three-wide battle for the lead. "But I wasn't enjoying it very much. I was ready for it to be over."
More pertinently, Harris remembered a big one that got away from him, a $5,000-to-win American Modified Series race at Kentucky Lake on June 13. In that one, Harris battled Stormy Scott for most of the second half of the 35-lap race before losing the lead with just a little more than three laps to go.
"That was still stinkin' pretty bad when we came here today," he said. "This makes up for it a little bit."
Tyler Weiss took second ahead of Lee, with Bryce Jewell and Matt Mevert rounding out the top five.
Fast qualifier Preston Seratt was sixth, followed by J.R. Mason, Benton driver Tait Davenport and Cooper, who continued after his spinout and regained a top-10 finish.
Trent Young, who had problems during the series of four heat races, came from the back of the 32-car field to finish 10th.
In other races on the program, Vic Hill of Greeneville, Tennessee, won the 20-lap Late Model feature, finishing ahead of Kent Robinson. Benton's Tanner English was third, followed by Dane Dacus and Dylan Thompson.
Davenport competed in two divisions during the evening. He brought a four-race unbeaten streak into the Crate Late Model main, but Paducah's Jeff Walston snapped the streak, taking the lead at the outset and then cruising to the win after Davenport was eliminated in the aftermath of a crash on the eighth lap.
Davenport and Calvert City driver Troy English tangled while battling for second place and spun, triggering a pileup that also involved the car of Credence Mott, who was sidelined. Davenport drove away from the wreck, but did not drop to the back of the field for the restart as ordered by race control, and received a black flag, sending him to the pits.
English fought his way back to finish fourth, with Chris Shelton fifth.
Walston, who won seven features last year on the way to the track championship in the Crate division at KLMS, scored his first win of the year. He finished in front of Robert Sanders second and Adam Ray.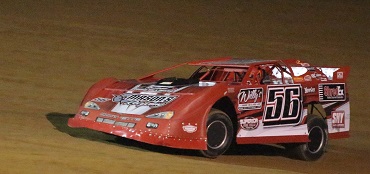 In the Stock Car main, Keaton Downing of Gilbertsville took the lead from pole starter Mike Hodges at the start and led all 15 laps to pick up his first KLMS victory. J.R. Mason was second, followed by Mike Hendrickson, Tya Cunningham and Mike Lentz.
In Pure Stock, Mike Neighbors swept to his fourth straight victory, taking the checkered flag ahead of Mike Watson, Matthew Rollins, Billy Collum and Lisa Wadley.
Independence Day at KLMS will offer a special $10 grandstand admission price, $5 off the regular ticket price. The discounted price will apply across the board, with no further discounts for seniors or military, but children 10 and under will still be admitted free. Pit admission will also be unchanged, at $35 per person and $50 for car and driver.
Saturday's program will feature extra prize money for the track's lower-run divisions – $2,500 to win for the Stock Cars and $1,000 to win for Pure Stocks. Late Model, Modified and Crate drivers will also be in action.
The Stock Car feature is being run as the second part of a two-night special, with another $2,500 to win on tap Friday night at Paducah International Raceway. If a driver can win both races, he or she will take home a $1,000 bonus in addition to the $5,000 combined first-place payoffs.  
Results – Race No. 6, June 20, 2015
MODIFIED – 1. Josh Harris, Utica, Kentucky; 2. Tyler Weiss, Allendale, Illinois; 3. Lucas Lee, Paris, Tennessee; 4. Bryce Jewell, Madisonville, Kentucky; 5. Matt Mevert, Steeleville, Illinois; 6. Preston Seratt, Dyersburg, Tennessee; 7. J.R. Mason, Paducah, Kentucky; 8. Tait Davenport, Benton, Kentucky; 9. Matt Cooper, McKenzie, Tennessee; 10. Trent Young, Hopkinsville, Kentucky; 11. Jeff Elliott, Mayfield, Kentucky; 12. Darin Obenchain, Lewisburg, Kentucky; 13. Corey Kellems, Island, Kentucky; 14. Michael Lee, Paris, Tennessee; 15. Chase Copeland, Paducah, Kentucky; 16. Lance Foreman, Evansville, Indiana; 17. Lincoln Epps, Dover, Tennessee; 18. Justin Houston, Murray, Kentucky; 19. Larry Anderson, Clay City, Illinois; 20. Stephen Schnapf, Newburgh, Indiana; 21. Michael Turner, Paris, Tennessee; 22. Rod Reed, Mayfield, Kentucky; 23. Brent Glasteter, Mooresville, North Carolina; 24. Justin Naylor, Robards, Kentucky; 25. Michael Bolyard, Faring, Illinois; 26. Jay Isom, Hopkinsville, Kentucky; 27. Chad Kinder, Newton, Illinois; 28. Dave Mitchell, Robards, Kentucky; 29. John Clippinger, Evansville, Indiana; 30. Hunt Gossum, Mayfield, Kentucky; 31. Josh Holley, Cadiz, Kentucky; 32. Kyle Robertson, Elkton, Kentucky
Heat race winners: Matt Cooper, Bryce Jewell, Josh Harris, Tait Davenport
Fast qualifier: Preston Seratt, 16.788 seconds
LATE MODEL – 1. Vic Hill, Greeneville, Tennessee; 2. Kent Robinson, Bloomington, Indiana; 3. Tanner English, Benton, Kentucky; 4. Dane Dacus, Lakeland, Tennessee; 5. Dylan Thompson, Paducah, Kentucky; 6. Jarryd Holshouser, Boaz, Kentucky; 7. Charles LaPlant, East Prairie, Missouri; 8. Tim Brown, Benton, Kentucky; 9. Dean Carpenter, Coldwater, Mississippi; 10. Brad Mitchell, Madisonville, Kentucky; 11. Jimmy Miller, Highland, Illinois; 12. Travis Horner, Alhambra, Illinois; 13. Chris Hall, Sikeston, Missouri
Heat race winners: Kent Robinson, Vic Hill
Fast qualifier: Kent Robinson, 15.869
CRATE – 1. Jeff Walston, Paducah, Kentucky; 2. Robert Sanders, Bowling Green, Kentucky; 3. Adam Ray, Smithland, Kentucky; 4. Troy English, Calvert City, Kentucky; 5. Chris Shelton, Paducah, Kentucky; 6. Kevin Poole, Paducah, Kentucky; 7. Matt Filkins, West Frankfort, Illinois; 8. Tait Davenport, Benton, Kentucky; 9. Credence Mott, Vienna, Illinois; 10. Joe Mike, Mayfield, Kentucky; 11. Barry Mason, Benton, Kentucky; 12. Austin Flint, Mayfield, Kentucky DNS: Jeff Patterson, Paducah, Kentucky
Heat race winners: Tait Davenport, Jeff Walston, Credence Mott
Fast qualifier: Tait Davenport, 16.475
STOCK CAR – 1. Keaton Downing, Gilbertsville, Kentucky; 2. J.R. Mason, Paducah, Kentucky; 3. Michael Hendrickson, Symsonia, Kentucky; 4. Tya Cunningham, Murray, Kentucky; 5. Mike Lentz, Herrin, Illinois; 6. Dale Nelson, Milan, Tennessee; 7. Mike Hodges, Cumberland Furnace, Tennessee; 8. Lyndell Pennebaker, Kevil, Kentucky; 9. Kassidi Gibbs, Paducah, Kentucky; 10. John Gray, Dawson Springs, Kentucky; 11. Brad Brown, Owensboro, Kentucky; 12. Tony Cruse, Paducah, Kentucky; 13. Chad Boone, Owensboro, Kentucky; DID NOT START: Cody Nesmith, Nebo, Kentucky; Mike Clark, Gary, Indiana; Clay Story, Benton, Kentucky
Heat race winners: Mike Hodges, Keaton Downing, Chad Boone
PURE STOCK – 1. Mike Neighbors, Cerulean, Kentucky; 2. Mike Watson, West Paducah, Kentucky; 3. Matthew Rollins, Princeton, Kentucky; 4. Billy Collum, Clarksville, Tennessee; 5. Lisa Wadley, Hopkinsville, Kentucky; 6. Brooklyn Garrett, Hopkinsville, Kentucky; 7. Randy Swift, Almo, Kentucky; 8. Mike Welch, Hopkinsville, Kentucky
Heat race winners: Mike Watson, Mike Neighbors