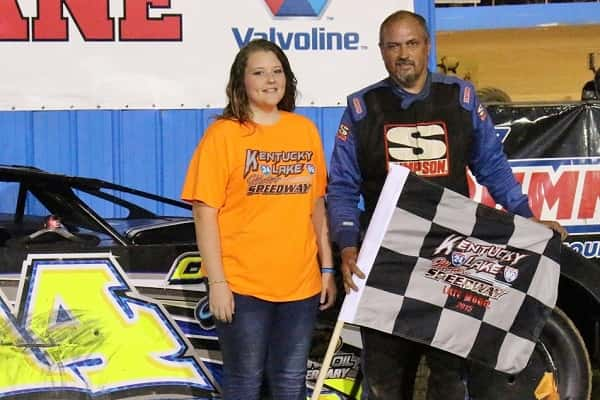 CALVERT CITY, Kentucky – Stormy Scott was a winner, in a big and exciting way, in his first try at Kentucky Lake Motor Speedway Saturday night as he took command with three laps to go and claimed the Summit American Modified Series 35-lap feature and $5,000 first-place prize money.
"Today was the first time I ever saw this place," said the 25-year-old driver from Las Cruces, New Mexico.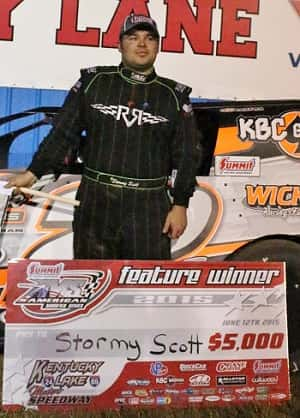 It took him no time to get familiar with the 3/8-mile oval, as he set fast time in qualifying and finished second in the first of four heat races.
In the feature, Scott worked his way up from fifth starting spot while front-row starters Trent Young and Josh Harris fought for the lead. Scott was third by the end of the second lap and got past Young for second on lap 8.
From that point, he waged a relentless battle with Harris, finally taking the lead on lap 32 and holding it to the finish. He won by 0.803-second over Tyler Nicely of Owensboro, Kentucky.
Harris, who won the Modified feature in the season opener at KLMS on April 11, was credited with leading the first 31 circuits, but Scott managed to temporarily nose in front of him on numerous occasions, with Harris running the high line and Scott working the low groove.
"My car was working good on the bottom," Scott said.
Patience finally paid off for Scott as he pulled ahead as the two drivers raced off Turn 4 to complete lap 32. Scott then allowed his car to move up the track in front of Harris, whose own bid to regain the lead on the inside was unsuccessful and he lost second place to Nicely the next time around.
Harris, of Utica, Kentucky, finished third, followed by Young and Matt Cooper.
AMS points leader Clayton Miller, a two-time winner in series races this year, was sixth.
Nick Stroupe, Jason Hughes, Tait Davenport and Lucas Lee rounded out the top 10.
The race drew a field of 48 cars and drivers.
In other races on the program, Tim Brown won the 20-lap Late Model feature, Troy English took the 20-lap Crate Late Model main, Brian Worley took the Stock Car win and Mike Neighbors notched his third win in a row in Pure Stock.
Scott, who drives Late Models and Modifieds for Woodward, Oklahoma-based Rowland Racing, piloted a car usually driven by Chad Kinder of Newton, Illinois. The No. 22 car has been a contender in races at KLMS before but had never made it into victory lane.
Scott is the fifth different winner in five Modified features at KLMS this year.
Local favorites Brown, of Benton, Kentucky, and English, of Calvert City, scored wire-to-wire wins in their features. Worley won for the third time and second in a row in the Stock Car division.
Davenport, undefeated in four starts in the Crate Late Model division at KLMS, opted to race in the Modified division on Saturday night and did not enter the Crate event.
Racing continues at KLMS, with Saturday's program to be highlighted by extra prize money for three divisions — $2,000 to win for the Late Models, $1,000 to win for the Stock Cars and $700 to win for Pure Stocks. Modified and Crate drivers will also be in action.
Results – Race No. 5, June 13, 2015
SUMMIT AMS MODIFIED SERIES – 1. Stormy Scott, Las Cruces, New Mexico; 2. Tyler Nicely, Owensboro, Kentucky; 3. Josh Harris, Utica, Kentucky; 4. Trent Young, Hopkinsville, Kentucky; 5. Matt Cooper, McKenzie, Tennessee; 6. Clayton Miller, Elkton, Kentucky; 7. Nick Stroupe, Iron Station, North Carolina; 8. Jason Hughes, Watts, Oklahoma; 9. Tait Davenport, Benton, Kentucky; 10. Lucas Lee, Paris, Tennessee; 11. Larry Anderson, Clay City, Illinois; 12. Everett Bradham, Olney, Illinois; 13. Todd Riley, Benton, Kentucky; 14. Shawn Cates, Newburgh, Indiana; 15. Jeff Parks, Marion, Illinois; 16. Michael Lee, Paris, Tennessee; 17. Matt Markham, Fredonia, Kentucky; 18. Dave Armstrong, Festus, Missouri; 19. Denny Schwartz, Ashmore, Illinois; 20. Bryce Jewell, Madisonville, Kentucky; 21. Brandon McDowell, Boonville, Indiana; 22. Danny Schwartz, Ashmore, Illinois; 23. Will Krup, Mt. Carmel, Illinois; 24. Kevin Henderson, Morgantown, Kentucky; 25. Mark Lamont, Crossville, Illinois; DID NOT START: Dean Hoffman, Troy, Illinois
Heat race winners: Trent Young, Clayton Miller, Josh Harris, Matt Cooper
B-Main 1: 1. Kevin Henderson; 2. Matt Markham; 3. Corey Kellems, Island, Kentucky; 4. Michael Turner, Paris, Tennessee; 5. Joey Cotterman, Cookeville, Tennessee; 6. Jeff Cotterman, Rickman, Tennessee; 7. Jeff Parks; Chase Copeland, Paducah, Kentucky; 9. John Clippinger, Evansville, Indiana
B-Main 2: 1. Lucas Lee; 2. Michael Lee; 3. Jay Isom, Hopkinsville, Kentucky; 4. Dave Mitchell, Robards, Kentucky; 5. Mark Lamont
Fast qualifier: Stormy Scott, 15.748
LATE MODEL – 1. Tim Brown, Benton, Kentucky; 2. Dane Dacus, Lakeland, Tennessee; 3. Jarryd Holshouser, Boaz, Kentucky; 4. Austin Rettig, Sikeston, Missouri; 5. Brad Mitchell, Madisonville, Kentucky; 6. Troy English, Calvert City, Kentucky
Fast qualifier: Dane Dacus, 14.476
CRATE – 1. Troy English, Calvert City, Kentucky; 2. Ronnie Cooper, McKenzie, Tennessee; 3. Brent Lewis, Harrisburg, Illinois; 4. Kevin Poole, Paducah, Kentucky; 5. Tom Filkins, West Frankfort, Illinois; 6. Pete Sabatino, Cadiz, Kentucky; 7. Adam Ray, Smithland, Kentucky
Fast qualifier: Troy English, 16.152
STOCK CAR – 1. Brian Worley, St. Mary, Missouri; 2. Tyler Nicely, Owensboro, Kentucky; 3. J.R. Baize, Central City, Kentucky; 4. Richie Berryhill, McKenzie, Tennessee; 5. Bradley Hobbs, Kenton, Tennessee; 6. Rex Rutter, Madisonville, Kentucky; 7. Michael Hendrickson, Symsonia, Kentucky; 8. Justin Naylor, Evansville, Indiana; 9. Jeran Hudson, McKenzie, Tennessee; 10. Joe Hamm, Dover, Tennessee; 11. Brent Stevenson, Benton, Kentucky; 12. Mike Hodges, Cumberland Furnace, Tennessee; DID NOT START: Dennis Vincent, Central City, Kentucky
Heat race winners: Tyler Nicely, J.R. Baize
PURE STOCK – 1. Mike Neighbors, Cerulean, Kentucky; 2. Randy Swift, Almo, Kentucky; 3. Mike Watson, West Paducah, Kentucky; 4. Matthew Rollins, Princeton, Kentucky; 5. Mike Welch, Hopkinsville, Kentucky; 6. Billy Collum, Clarksville, Tennessee; 7. Lisa Wadley, Hopkinsville, Kentucky; 8. Brooklyn Garrett, Hopkinsville, Kentucky
Heat race winners: Randy Swift, Mike Neighbors