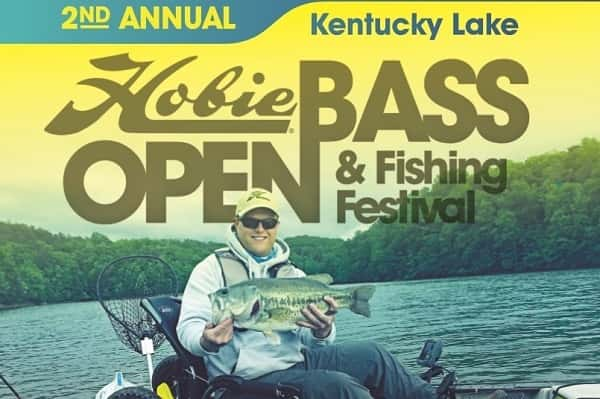 OCEANSIDE, California –  Calling all kayak anglers: You do not have to win the Hobie Bass Open Crown to enjoy the prize pool and have a great time. As announced earlier, the Hobie Bass Open qualifier for the Hobie Fishing Worlds IV will be held at the Kentucky Lake Dam Village State Resort Park in Kentucky, May 30-June 1. The winner will take home the Crown and earn a spot on the 2015 Hobie Fishing World's Team on Shang Lake in Changshu China, but there is much more for up for grabs.
The purse is 100% cash payback. But it does not end there. In addition, a whole plethora of prizes will be awarded, including Lowrance®, Power Pole®, FUGOO, St Croix, Daiwa and Yak Attack. Then, of course, there are the accolades. Saturday evening chow and Sunday lunch will be provided by Hobie Cat Company and Bassin' Magazine. Kentucky Dam Village is also offering a special Hobie Bass Open rate while rooms last. Call (270) 362-4271 for details.
The event is a catch, photograph and release (CPR) tournament where anglers measure and photograph their top three bass during each of the two days, to be scored by total aggregate length. Eligible species include largemouth, spotted and smallmouth bass on human powered kayaks. Anglers are invited to register for the event by logging onto http://2015hobiebassopen.eventbrite.com
A Hobie Fun Fest consumer event will be held simultaneously off the Kentucky Dam beach. Hobie invites all competitors as well as the general public to bring their family and friends and join in the festivities. Fun seekers will have the opportunity to demo Hobie Islands, kayaks and SUP's.