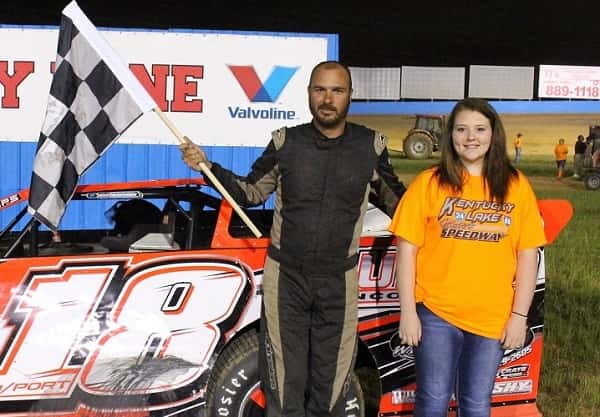 CALVERT CITY, Kentucky – Tait Davenport kept alive a winning streak, and snapped a five-week-long spell of inclement weather that had plagued Kentucky Lake Motor Speedway, in winning the 25-lap Crate Late Model feature Saturday night.
Other winners on the program included Terry English in Late Model, Trent Young in Modified, Chad Boone in Stock Car and Mike Neighbors in Pure Stock.
Davenport claimed the $2,500 first-place prize for his win, the third in as many starts this year at the KLMS oval for the Benton, Kentucky, driver. He also won on April 11 and April 18.
The track has been idle since then, plagued by rain that washed out races on April 25, May 9 and May 15-16. May 2 was an open date.
Davenport got the jump on Tanner English at the start and led all the way. He finished ahead of Ashley Newman, English, Evan Taylor and Ronnie Cooper.
Terry English, also of Benton, Kentucky, got his second win of the year in the 15-lap Late Model main event. English, who won on opening night April 11, prevailed in a first-lap battle with Tim Brown and went on to win over Dylan Thompson, Jarryd Holshouser and Chris Shelton, with Brown fifth.
Young, a six-time winner last season at KLMS, took his first win of this season in the Modified main. Michael Lee, Brian Shaw, Todd Riley and Michael Turner rounded out the top five.
Boone won for the second time in a row in the Stock Car class, adding to his win April 18. Defending track champion Mike Lentz was second and Joe Hamm third.
Neighbors became the third different winner in the Pure Stock division. Randy Swift and Matthew Rollins, who won the first two races, were second and third behind Neighbors.
This Saturday's program will feature the Late Model division in a $2,000-to-win main event, along with the Stock Cars ($1,000 to win) and Pure Stock ($700 to win). Crate and Modified races will also be on the program.
Results – Race No. 3, May 23, 2015
CRATE – 1. Tait Davenport, Benton, Kentucky; 2. Ashley Newman, Ripley, Tennessee; 3. Tanner English, Benton, Kentucky; 4. Evan Taylor, Woodlawn, Tennessee; 5. Ronnie Cooper, McKenzie, Tennessee; 6. Jeff Walston, Paducah, Kentucky; 7. Kevin Poole, Paducah, Kentucky; 8. Brent Lewis, Harrisburg, Illinois; 9. Adam Ray, Smithland, Kentucky; 10. Andrew Allen, Paris, Tennessee; 11. Mitch Thornton, Columbia, Tennessee; 12. Austin Flint, Mayfield, Kentucky; 13. Jeff Wells Jr., Truman, Arkansas; 14. Ricky Waggoner, Martin, Tennessee; 15. Credence Mott, Vienna, Illinois; 16. Troy English, Calvert City, Kentucky; 17. Matt Filkins, West Frankfort, Illinois
Heat race winners: Tait Davenport, Tanner English, Evan Taylor
Fast qualifier: Credence Mott, 16.160 seconds
LATE MODEL – 1. Terry English, Benton, Kentucky; 2. Dylan Thompson, Paducah, Kentucky; 3. Jarryd Holshouser, Boaz, Kentucky; 4. Chris Shelton, Paducah, Kentucky; 5. Tim Brown, Benton, Kentucky; 6. Scott Bell, East Prairie, Missouri; 7. Brad Mitchell, Madisonville, Kentucky
Fast qualifier: Terry English, 15.768
MODIFIED – 1. Trent Young, Hopkinsville, Kentucky; 2. Michael Lee, Paris, Tennessee; 3. Brian Shaw, Robinson, Illinois; 4. Todd Riley, Benton, Kentucky; 5. Michael Turner, Paris, Tennessee; 6. Aaron Bell, East Prairie, Missouri; 7. Jay Isom, Hopkinsville, Kentucky; 8. Jerry Gilkey, Hopkinsville, Kentucky; 9. Josh Cherry, Fulton, Kentucky; 10. Tony Jackson, Dover, Tennessee; 11. Rod Reed, Mayfield, Kentucky; 12. Corey Kellems, Island, Kentucky; 13. Brandon McDowell, Boonville, Indiana; 14. Jeff Elliott, Mayfield, Kentucky; 15. David Mitchell, Robards, Kentucky; 16. Josh Holley, Cadiz, Kentucky; 17. Lincoln Epps, Dover, Tennessee; 18. Tom Sample, Cape Girardeau, Missouri; 19. Bryce Jewell, Madisonville, Kentucky; 20. J.R. Mason, Paducah, Kentucky; DID NOT START: Hunter Jessup, Cape Girardeau, Missouri; Darrell Brewer, Mayfield, Kentucky
Heat race winners: Trent Young, Bryce Jewell, J.R. Mason
Fast qualifier: Trent Young, 16.396
STOCK CAR – 1. Chad Boone, Owensboro, Kentucky; 2. Mike Lentz, Herrin, Illinois; 3. Joe Hamm,  Dover, Tennessee; 4. Brent Stevenson, Benton, Kentucky; 5. Marlin Cathey, McKenzie, Tennessee; 6. Tya Cunningham, Murray, Kentucky; 7. Mike Hodges, Cumberland Furnace, Tennessee; 8. Chase Estes, Owensboro, Kentucky; 9. John Gray, Dawson Springs, Kentucky
Heat race winners: Chad Boone, Mike Hodges
PURE STOCK – 1. Mike Neighbors, Cerulean, Kentucky; 2. Randy Swift, Almo, Kentucky; 3. Matthew Rollins, Princeton, Kentucky; 4. Phillip Byard, Clarksville, Tennessee; 5. Stephen Newton, Benton, Kentucky; 6. Lisa Wadley, Hopkinsville, Kentucky; 7. Mike Welch, Hopkinsville, Kentucky; 8. Billy Collum, Clarksville, Tennessee; 9. Phillip Dunn, Benton, Kentucky; 10. Mike Watson, West Paducah, Kentucky
Heat race winners: Mike Watson, Mike Neighbors