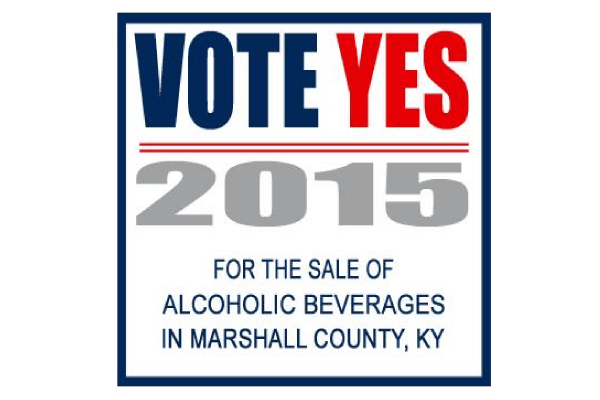 DRAFFENVILLE – After holding another petition drive over the weekend, Elena Blevins with the Kentucky Lake Convention & Visitor's Bureau reports the Vote YES 2015 campaign  to take alcohol sales to the ballot has received and verified 2,258 petitions, another 272 awaiting verification and another 150 or so that cannot be verified.
Pending further verifications, the group is less than 1,000 signatures away from having enough to move the issue to a special election. According to County Court Clerk Tim York, the group must collect a minimum of 3,366 signatures. According to KRS, a petition must be signed by a number of constitutionally qualified voters equal to 25 percent of the votes cast in the last preceding general election. In this case, that number was 13,463.
Members of the Vote YES 2015 group have been setting up locations around the county offering voters the opportunity to sign the petition and have also set up a printable form online available on their website http://voteyes2015.com/, as well as via a clickable advertisement here on Marshall County Daily.com.
Of their efforts to get more petitions in the hands of voters, Blevins said they will be sending out a county-wide mailer in the local print paper on May 12th to try to meet their original deadline of May 27th. She adds that while meeting this deadline is not a necessity, it does ensure that the special election could be held in the month of July and be non-disruptive to schools used as polling locations as they return to session in August.
Tentatively, if all of the required signatures are gathered by the established deadline, the election for alcohol sales will be held on July 28.
Petition signers must be 18 or older and a registered voter in Marshall County. Petitions can be dropped off at the Kentucky Lake Convention & Visitor's Bureau, located at 93 Carroll Rd. in Draffenville or mailed to P.O. Box 425 Benton, KY 42025.
For those needing assistance with petition pick-up, please call 270-205-1919, 270-205-0205, 270-493-0873 or 270-703-0586.
While they have remained fairly quiet thus far, a new update from the Say 'No' Now group is expected to be forthcoming as County Judge-Executive candidates report having received a survey in the mail asking their position on the issue of alcohol sales.