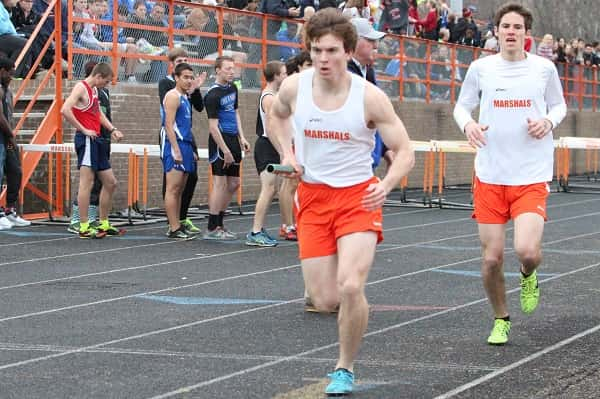 DRAFFENVILLE – Marshall County opened the track season with an All-Comers meet at home Thursday. Coach Cory Westerfield heads up the girl's team and Coach Jared Rosa is at the helm of the boy's team.
The team is coming off a very successful 2014 season where 20 Marshall track athletes qualified for the state meet, many of whom are back to make another run this season including Skylar VanMeter who finished second at state in the high jump, Michaela Manley took fourth in state in the high jump and Stephanie Russell placed seventh and 11th in the 300 and 100 meter hurdles.
Also coming back from last year's state team are sprinters Sydney Goff, Kara Kelley, Lexie Myers and Nathan Solomon.
The boy's 4 x 800 relay team that placed 20th in the state meet, is still intact with Robert Blankenship, Jacob Carnine, Collin Gunn and Dax Parker.
Casey Gregory, who placed 19th in the state pole vault, is also back to improve on last year's results.
Recording first place finishes in Thursday's All-Comers meet were Stephanie Russell in the 100 meter hurdles followed closely by Brandy Bass in second.
Michaela Manley took first in the high jump with five feet with teammates Kaylie Riley and Paige Henson taking second and third.
Jacob Carnine crossed in first in the 800 meters and Collin Gunn took first in the 1600 meters.
Jack Brown and Tyler Hega went one-two in the boy's 100 meter high hurdles, an event the Marshals haven't had a presence in the past couple of years.
The Marshal A 4 x 800 relay team of Carnine, Gunn, Parker and Blankenship took first, setting themselves up for another successful team relay season.
In field events Dre Reed took first in the high jump, Casey Gregory placed first in the pole vault and Justin Robinson was first in the long jump.
The meet was not scored according to team results, but a good event for coaches to collect times on their athletes, according to Coach Westerfield.
The team will compete at Murray High on Tuesday starting at 5:00.
Results below of the first place finisher in each event and Marshall top10 finishes.
Event

Place

 
Athlete 
School
Result 
GIRLS 
100 meters 
1st
Ann Taylor
Murray
13.30
4th
Sydney
MCHS
13.80
4th
Kara Kelley
MCHS
13.80
7th
Michaela Rogers
MCHS
14.00
200 meters
1st
Ann Taylor
Murray
28.10
2nd
Sydney Goff
MCHS
28.50
4th
Kara Kelley
MCHS
28.70
5th
Michaela Rogers
MCHS
29.20
5th
Lexie Myers
MCHS
29.20
10th
Gloria Freeman
MCHS
29.70
400 meters 
1st
Grace Campbell
Murray
1:05.20
2nd
Stephanie Russell
MCHS
1:06.50
8th
Jazmine Rozycke
MCHS
1:10.20
10th
Audrey Grizzard
MCHS
1:10.70
800 meters 
1st
Kyla Kidd
McCracken
2:58.30
 
3rd
Jordyn Ray
MCHS
3:01.20
 
5th
Bailey Sandlin
MCHS
3:02.90
 
7th
Elizabeth Cavanah
MCHS
3:53.80
1600 meters 
 
1st
Ashley Zimmerman
McCracken
5:41.80
 
4th
Spring Dolbee
MCHS
6:15.50
 
100 hurdles 
1st
Stephanie Russell
MCHS
17.20
 
2nd
Brandy Bass
MCHS
18.10
 
5th
Kaylie Riley
MCHS
20.30
 
4 x 800 
1st
McCracken A
McCracken
11:11.50
3rd
Marshall A
MCHS
11:17.90
6th
Marshall B
MCHS
12:19.00
High Jump
1st
Michaela Manley
MCHS
5′
 
2nd
Kaylie Riley
MCHS
4'4″
 
3rd
Paige Henson
MCHS
4′
 
Long Jump
1st
Grace Campbell
Murray
15'9″
 
3rd
Brandy Bass
MCHS
14'3″
 
Shot Put
1st
Sarah McDowell
Murray
31'10"
 
Discus
1st
Sarah McDowell
Murray
100'8″
 
BOYS
100 meters
1st
Joey Marshall
Graves
11.20
 
5th
Nathan Solomon
MCHS
11.90
 
200 meters 
1st
Joe Holman
Fulton Co.
24.20
7th
Tieler Hamlet
MCHS
25.06
8th
Justin Robinson
MCHS
25.10
400 meters 
1st
Dre Bledsoe
Ballard
52.50
 
2nd
Austin Shackleford
MCHS
53.00
 
5th
Robert  Blankenship
MCHS
53.50
 
800 meters 
1st
Jacob Carnine
MCHS
2:13.60
 
3rd
Jackson Reed
MCHS
2:24.30
 
9th
Eli English
MCHS
2:27.10
 
1600 meters 
1st
Collin Gunn
MCHS
4:55.80
 
9th
Joseph Reed
MCHS
5:21.60
 
100 hurdles 
1st
Jack Brown
MCHS
17.80
 
2nd
Tyler Hega
MCHS
18.10
 
4 x 800
1st
Marshall A
MCHS
8:55.60
2nd
Marshall B
MCHS
9:27.30
10th
Marshall C
MCHS
10:29.50
High Jump
1st
Dre Reed
MCHS
5'8″
 
3rd
Tyler Hega
MCHS
5'6″
 
4th
Tanner Clough
MCHS
5'4″
 
Pole Vault
1st
Casey Gregory
MCHS
11′
 
Long Jump 
1st
Justin Robinson
MCHS
18'7″
 
8th
Caleb Ferguson
MCHS
17'1″
 
Shot Put 
1st
De'vharius Jones
McCracken
44'2″
 
10th
Cameron Miller
MCHS
33'5.5″
 
Discus 
1st
Sam Barrett
McCracken
124'8″
10th
Cameron Miller
MCHS
85'5″