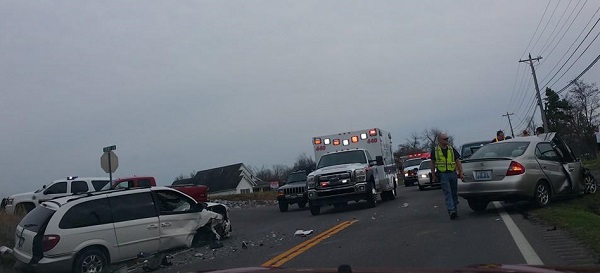 UPDATED: The driver of the vehicle was later identified as 55 year-old Dale Wyatt of Benton who was also charged with operating on a suspended license, no registration plates, no insurance, and giving officer a false name.
Original Story:
BENTON – A young victim narrowly escaped serious injury on Saturday afternoon after being hit by an intoxicated driver in a near head-on collision.
According to eye-witness statements, a white mini-van was traveling west-bound on US Highway 68 west and had been seen by motorists crossing the center line before finally crossing over fully into the eastbound lanes and into the path of oncoming traffic.
The driver of the van side-swiped the first passenger car which had swerved toward the ditch to avoid the collision, however, the driver of the second car was unable to fully avoid the collision although she pulled toward oncoming traffic in an attempt to avoid the van.
The impact of the crash left both vehicles in lanes opposing their original path of travel. The driver of the van immediately climbed out of the passenger window and was kept at the scene by an off-duty officer until law enforcement officials could arrive.