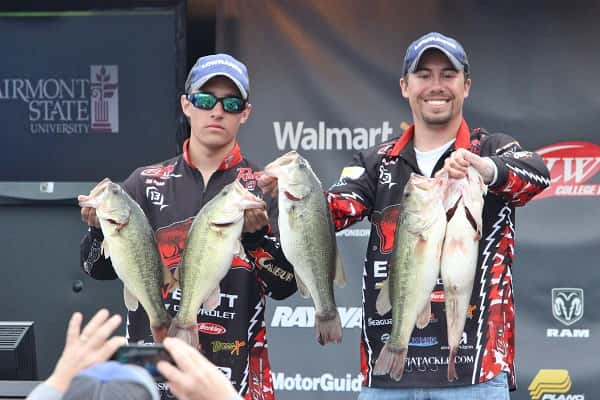 GILBERTSVILLE – University of Arkansas-Fayetteville anglers Zachery Pickle and Drew Porto won FLW's College Fishing Kentucky Lake Open Saturday with a two day weight of 43 pound, 12 ounces. They won a Ranger Z117 bass boat with a 90-horsepower Evinrude or Mercury outboard and a spot in the 2016 FLW College Fishing National Championship.
The two had never been on Kentucky Lake before and found most of their success below Paris Landing, Tn.
The tournament was based out of Moors Resort and Marina with weigh-ins each day starting at 3:00 pm.
The top 10 teams earned an automatic spot in the National Championship. Murray State's Ryan Kirkpatrick and Logan Thomas sat in 10th on the bubble for a while before getting knocked down to 12th with the final few weigh-ins out of the 194 teams in the tournament. Their two-day total was 31 pounds, 9 ounces.
Also with a good finish for Murray State was the team of Cody Sieben and Andrew Mohlenbrock who finished 15th with 29-12.
Bethel University put three teams in the top 10, being the most successful collegiate school in the tournament.
Friday's leaders from Northwest Missouri State finished the tournament in fourth. Here are the top 10 teams that qualified for the FLW College Fishing National Championship.
CLICK HERE for a complete list of results.
| | | | |
| --- | --- | --- | --- |
| 1st | Zachery Pickle/Drew Porto | University of Arkansas-Fayetteville | 43-12 |
| 2nd | Konnor Kennedy/Ethan Fleck | University of Alabama | 43-5 |
| 3rd | Qiurun Chen/Luke Stoner | University of Illinois | 43-0 |
| 4th | Andrew Nordbye/Adam Almohtadi | Northwest Missouri State | 41-14 |
| 5th | Ty Dyer/Joseph Huggins | Bethel University | 38-1 |
| 6th | Dalton Wesley/Zach Hartnagel | Southern Illinois University-Edwardsville | 37-4 |
| 7th | Grant Rutter/ Kristopher Queen | Bethel University | 36-2 |
| 8th | Alec Piekarski/Kyler Chelminiak | Bethel University | 34-9 |
| 9th | Patrick Hoskins/Dillon Falardeau | UT Chattanooga | 34-6 |
| 10th | Zack Beek/Zachary Hartley | Iowa State | 32-14 |